News
In Memoriam kerry ferris (1949-2016)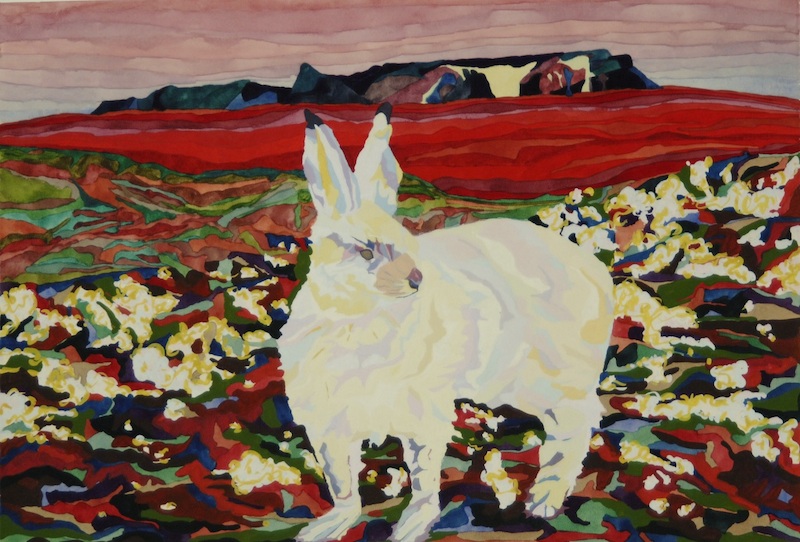 kerry ferris (Canadian, 1949-2016), Arctic Hare 1981. watercolour and graphite on paper, 45.7 x 66.3 cm, McIntosh Gallery, Western University. Purchase, W. H. Abbott Fund, 1983
McIntosh Gallery is saddened by the recent loss of local artist kerry ferris. The thirteen works representing her in the McIntosh Collection arose from her many travels including to the Canadian Arctic, Newfoundland, and the Galapagos Islands. Kerry's paintings embodied her belief that everything is connected by a cosmic life force, that a back yard, riverbank, glacier or beach is as important as any other place. We had the pleasure of presenting two solo exhibitions of kerry's work, Arctic Paintings in 1983 and Connections in 1996.  In her own words:
i remember through webs of light the calm
intensity of a knowledge of oneness—totality of
breath—all back yards or gardens are different,
but our own special to each heart—and the
heart and soul is the energy of silent movement
between nature and human beings who truly
care and love their environment—there is no
difference when one sees with light
kerry ferris
July 1999
In addition to her career as an artist, kerry was also a valued Western employee for 28 years in the Library Information Resources Management Department at Western Libraries.
Great Pile of Aging Flesh by Quintin Teszeri
McIntosh Gallery is pleased to present its latest publication,
Great Pile of Aging Flesh
, by Quintin Teszeri in response to the exhibition
Jewels in the Crown: The Western Alumni Association Art Collection
presented September 17 to October 24, 2015.
Click here to view.