2011 Exhibitions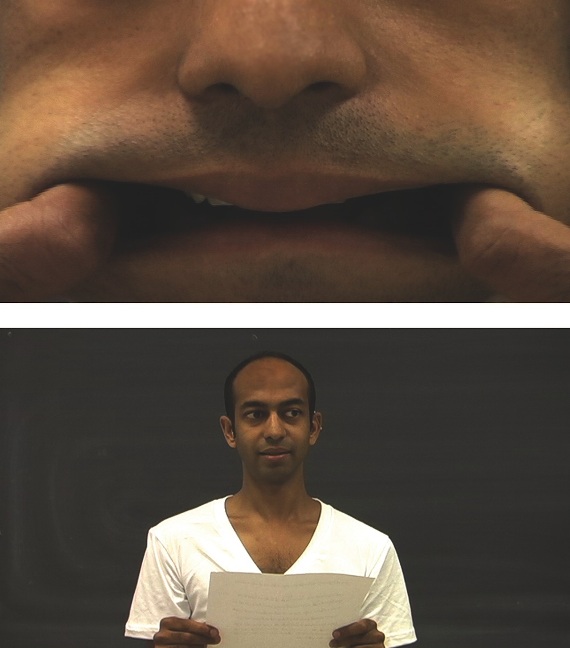 Brendan Fernandes (Canadian) Foe, 2008 Video still, Collection of the artist.
WHEN: Sept. 30 to Dec. 17, 2011
Curated by Susan Edelstein and Patrick Mahon
Barroco Nova: Neo Baroque Moves in Contemporary Art presents projects by 18 Canadian and international contemporary artists whose approaches rely on intensified appeals to our senses that produce an engaged address to our very cultural moment. Among the exciting and multi-layered works in the exhibition are those that demonstrate divergent responses to shifting notions of identity and foreground renewed ideas concerning the body, especially within entertainment-oriented and media-charged cultural environments.
At McIntosh Gallery, works by Brendan Fernandes (Toronto/New York) and Kent Monkman (Toronto) take up and extend the post-colonial sub-themes that are significant to Barroco Nova. Using photography, video, sculpture and installation, their projects bring together an environment where the surface of the body and social space confront and interweave to exaggerate questions about both identity and nation. In the work of Fernandes—a graduate of Western's MFA program—the video project Foe shows the artist (himself an immigrant to North America from many years ago) engaged in the often wry undertaking of learning to speak accented English with the help of a voice coach. This dramatic and entertaining piece was recently exhibited to great acclaim at the Guggenheim Museum in New York.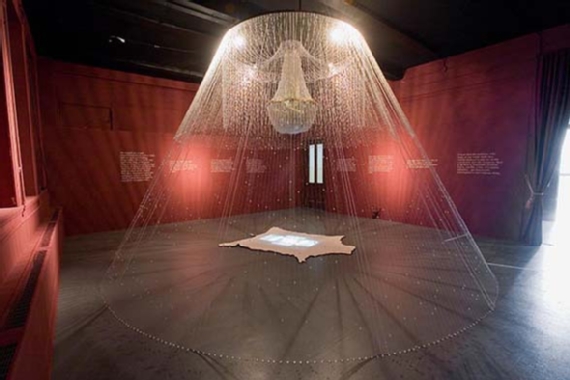 Kent Monkman (Canadian) Théâtre De Cristal, 2007, installation, Collection of the artist.
Kent Monkman's installation, Théâtre De Cristal, presents a crystal teepee with a chandelier at its centre, which brings attention to the complex, layered histories within North American aboriginal identity formation. Monkman himself is presented within the teepee, via a video projected on a buffalo skin, playing his alter-ego character, the Berdashe, or village transvestite—a character who, historically, was often a celebrated member of native tribes in North America.
Barroco Nova: Neo Baroque Moves in Contemporary Art is linked with a larger research project, The Hispanic Baroque, which was initiated by Dr. Juan Luis Suarez of Western's Modern Languages program over four years ago. A major collaborative research undertaking funded by the Social Sciences and Humanities Research Council of Canada (SSHRC), it involves 35 international multi-disciplinary researchers who are examinging the ways in which the Baroque persisted and was transformed after the eighteenth century in order to meet the needs of different cultural systems and forms of artistic production up until today.
Organized by and presented at Western's ArtLab Gallery, McIntosh Gallery and Museum London. 
Kim Moodie, Wolf Heads and Dinosaurs, 1982 watercolour and graphite on paper, 71.2 x 101.2 cm. McIntosh Collection, purchased with the Assistance of the Canada Council for the Arts, 1983.
WHEN: April 6 to Dec. 15, 2011
WHERE: University College (second floor)
Curated by Fredericton-based Laura Ritchie, Fantastic Details: Building Materials for the Construction of Other Worlds brings together an array of monsters, mutants and fantastic landscapes from the McIntosh Gallery's collection of over 3,500 works. Fittingly, the show is installed at University College, Western's oldest neo-gothic building.
A celebration of detailed, meticulous work, the exhibition includes contemporary artists Rebecca Burke, Evergon, Kim Moodie, Gillian Saward, Roly Fenwick and Bogdan Zarksi. In addition, elaborately detailed and inventive works by 19th century British artists George Baxter, Sir William Blake Richmond and early 20th century artist Annie French provide a remarkable historical context for our enduring interest in phantasmagorical excess. As Ritchie puts it: "Fantastic Details looks at the way in which pattern, repetition and meticulous craftsmanship are used by artists to construct other worlds full of imaginative deviation that transcend conventional representations of the real." A Department of Visual Arts MA candidate at Western University, Laura Ritchie is an intern at the McIntosh Gallery. An exhibition catalogue is available.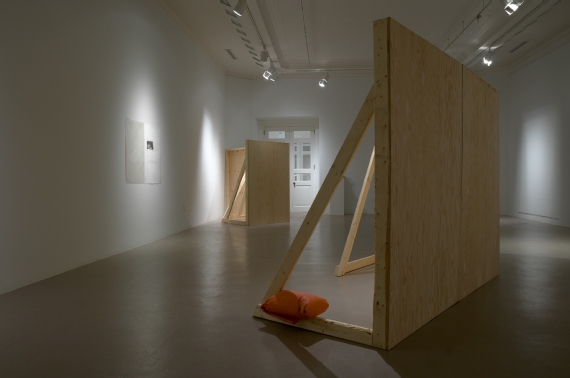 Michelle McGeean's installation at McIntosh Gallery. Photo: David Kemp.
WHEN: Aug. 19 to Sept. 18, 2011
Robert Williams: So it Goes includes paintings, drawings and paper models that explore the limits of describing the mundane domestic spaces of the artist's apartment. With broad areas of pale, tonally similar colours and a conspicuous absence of pictorial drama, Williams' detached rendering of everyday life belies his acute observations of light and atmosphere within otherwise unremarkable interiors. The copious preparatory drawings and models painstakingly made of bits of paper reveal the acute analytic approach underlying Williams' seemingly uncomplicated paintings.
Michelle McGeean also looks at architectural space, but from quite a different angle. The title of her exhibition, This Will Kill That, is taken from Victor Hugo's 1831 novel Notre Dame de Paris. With references to an array of architectural histories, including failed utopian housing projects, McGeean's continuously evolving installation evokes the often unacknowledged volatility of the built environment in contrast to the stability and persistence of its representation in printed material. Buildings come and go, but they often exist virtually in residual form through photographs, architectural drawings and descriptive texts.
Michelle McGeean: This Will Kill That and Robert Williams: So It Goes are MFA thesis exhibitions presented in collaboration with Western's Department of Visual Arts.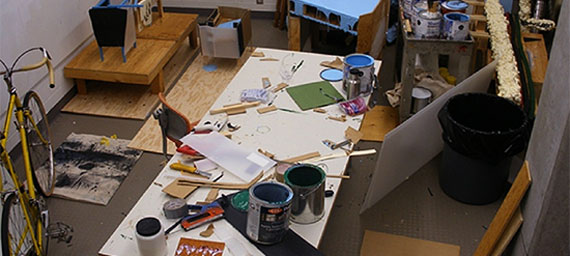 Jason Hallows' studio, John Labatt Visual Arts Centre, Western. Photo: courtesy of the artist.
WHEN: July 15th to Aug. 12th, 2011
Jason Hallows' recent work explores the relationship between an object's production and its display. Demonstration consists of a series of table-like constructions on which rubbery sheets of dried paint are placed. Other such sheets are hung like pictures on the wall. The tables include moulds in which these sheets of paint were cast. Residual traces of paint on the mould and, conversely, wood-grain texture on the paint, provide further evidence of the entire process. All well and good, but it doesn't end here. Hallows disrupts this satisfyingly linear narrative through various temporal and spatial recursions. Salvaged studio materials and workshop debris bring unexpected histories to bear on the work. Viewers must negotiate through an array of such heterogeneous materials, which appear to struggle and resist their newly assembled contexts.
All of which makes Hallows work unabashedly provisional. Parts of one work show up in another. Entire sculptures are taken apart and reassembled. Hallows reminds us that the words "demonstration" and "monster" are related in order to suggest how the implicit narratives of production and display in his work are distorted through corruptive transgression and parasitic transformation.
Hallows completed undergraduate studies at OCAD and received an MFA from the University of Guelph. He is currently a PhD candidate in the Art and Visual Culture program at the University of Western Ontario where his supervisory committee includes Patrick Mahon (primary advisor), Bridget Elliott and David Merritt. Hallows is also co-director, with Anna Madelska, of The Parker Branch, an independent gallery and archive.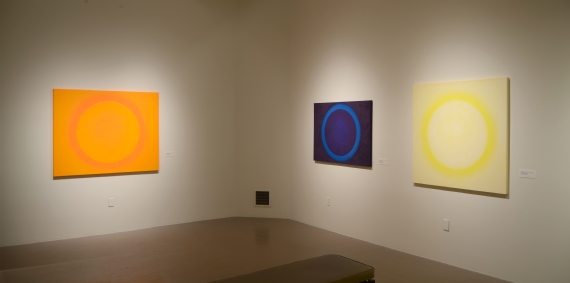 Jeet Aulakh's Anahada Naada exhibition at McIntosh Gallery.
WHEN: Opening May 19th, 2011 Sacred Space continues until July 2nd, Jeet Aulakh to August 12th
Art has long been understood to convey spiritual values in many cultures. But even within secular societies artistic expression is often synonymous with spiritual or exalted experiences of our world and indeed the universe.
The exhibition Sacred Space presents works of art from the McIntosh collection that evoke reflection upon our metaphysical relationship to nature, people and the cosmos. Curated by Catherine Elliot Shaw and Jan Shepherd McKee, the exhibition includes works by David Milne, Joseph Hubbard, Ed Zelenak, Walter Redinger and Anne Meredith Barry.
To complement Sacred Space, the McIntosh has organized an exhibition of paintings by Windsor-based artist Jeet Aulakh. With Anahada Naada, a Sanskrit phrase that describes a primordial sound experienced in deep meditative states, Aulakh seeks to understand the incomprehensible connections between secular and spiritual identity through paintings of glowing, multi-coloured circles. Sacred Space and Jeet Aulakh: Anahada Naada are presented to coincide with the 137th General Assembly of the Presbyterian Church in Canada, which will be held from June 5th to June 11th at Western.
Join us on Thursday June 9th at 7:00 P.M. for a reception with the artists featuring a guided tour of sculpture located throughout Western's park-like campus.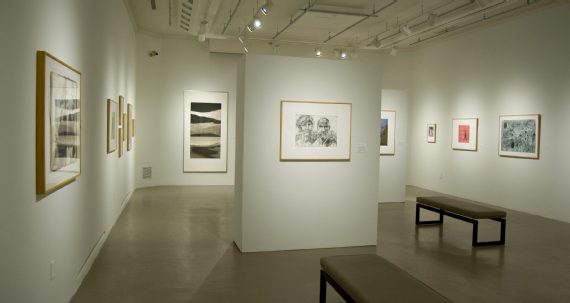 Sense of Place at McIntosh Gallery.
WHEN: January 6th to February 19th, 2011
Sense of Place explores the concept of place through the work by 36 printmakers from Canada and the United States. Including traditional techniques such as monotype, etching, woodcut, lithograph and serigraph as well as digital prints and found objects, this exhibition demonstrates the diversity of contemporary printmaking practices. Most of the artists in the show have approached the theme conceptually. While there are some landscapes that explicitly refer to a specific location, the exhibition focuses more on the way in which a sense of place is linked to individual identity, personal experience and memory.
As cultural geographers suggest, "place" is a way of describing meaningful space. A"space" becomes a "place" when there is a sense of belonging or connection to it. For some, a sense of place is synonymous with home. For others, it entails searching somewhere else.
Through the production of many circulating images printmaking can evoke feelings of both proximity and belonging or, in contrast, remoteness and alienation. The experience of place mediated by printmaking is relative and variable, depending upon the viewer's experience and location. With multiple copies circulating in various contexts, they are subject to diverse interpretations and can evoke a range of responses.
Sense of Place includes works by artists: Joseph Banh, Nadine Bariteau, Mark Bovey, Yael Brotman, Dacia Celeste-Fauth, Patricia Coates, Meena Dhar, Lisa Driver in collaboration with Milky Way, Christopher Durocher, Erik Edson, Joel Fullerton, Sue Gordon, Dieter Grund, Libby Hague, George Hawken, Liz Ingram, Hannamari Jalovaara, Melody Krauze, Bill Laing, Tara Lynn MacDougall, Judy Major-Girardin in collaboration with Briana Palmer, Adam Medley, John Montminy, Rory O'Connor, Gary Olson, Terry O'Reilly, Kenneth Pattern, Shannon Phair, Dianna Rae Borel, Victor Romão, Carol Rowland-Ulmann, Dan Steeves, Michele Tarailo, Susan Turner, and Terry Vatrt.
Organized and circulated by the Windsor Printmaker's Forum, Sense of Place was juried by artist Iain Baxter&, Nancy Sojka, Curator, Detroit Institute of Arts, and James Patten, Director, McIntosh Gallery.