2021
Selected Acquisitions 2015-2020
January 25 - February 20, 2021
Jenna Faye Powell,
Expansion Potential
  2016. Oil and acrylic on panel. McIntosh Gallery Collection, Western University Purchase, W.H. Abbott Fund, 2016

.
Between 2015 and 2020 McIntosh Gallery acquired over 500 works of art, many of which were generously donated to the gallery by collectors and artists. Donations of works of art, as well as monetary donations, have allowed us to significantly enhance our existing holdings of Canadian artists such as Shuvinai Ashoona, Jack Bush, A. J. Casson, Sky Glabush, Angela Grauerholz, Jamelie Hassan, A. Y. Jackson, Ron Martin, David Milne, Norval Morrisseau and Barbara Steinman. 


With this exhibition, McIntosh Gallery gratefully acknowledges the invaluable contribution of our generous donors who make it possible for us to collect, maintain, preserve and develop a permanent collection. A rich resource for the promotion and appreciation of regional and national artists both historical and contemporary, the McIntosh Gallery Collection is widely recognized for its unique holdings which are featured regularly in curated exhibitions across Canada and in prestigious publications.


This exhibition includes artwork donated by: Flavio Belli, Lew Benvenuto, the 
Bull Family Collection of Inuit Art, Richard Crouch and Margaret Ann Wilkinson, Doreen Curry, Cynthia Curtis, Dr. G. Didomenicantonio, John and Suzanne Kaufmann, Frances V. Farmer, Angela Grauerholz, 
the Hagan Family, Frank Lamanna, Tom Legrady, The London Free Press Employees' Association Collection, Eleanor Miller, the Estate of S. Elizabeth Moore, Nancy Geddes Poole, Barbara Steinman, The Student Development Centre at Western University, Ian Tripp, Joan Walters and David Job, Faye and Rod Willis, and Ross and Marion Woodman.
Written on the Earth
March 4 - April 17, 2021
Hannah Claus, Patrick Mahon, Ellen Moffat, Joel Ong, Eeva Siivonen, and Matthew Trueman
Curator: Helen Gregory, Project Coordinator: Patrick Mahon

Brooks Lake Aerial Analysis. Courtesy Northern Tornadoes Project, Faculty of Engineering, Western University.

Beneath menacing black storm clouds, a funnel cloud forms. It snakes towards the earth and makes explosive contact, leaving a trail of destruction and scarring the earth with a calligraphy writ at colossal scale. Swathes of fallen trees are at once exquisite and horrifying, the trunks flattened into swirling, turbulent patterns that document the movement of the tornado as it traces its way across the land. In the eyes of scientists, this damage provides a source of data that demands analysis. As Timothy Morton writes in Being Ecological, "Data simply means what is given. It's the plural form of the supine of the Latin dare, to give: aspects of things that are given to us when we observe them." When presented with data, how do different disciplines respond to what has been given?

Science and art are often positioned as operating across a divide where experimentation and rational analysis and poeticized engagements that favour affect typify respective and seemingly opposing orientations. Such a reductive binary fails to recognize the existence of a much more complex and imbricated field of relations involving science and art where practitioners must ultimately invest in understanding a common and commonly challenged world.

Written on the Earth is an interdisciplinary exhibition with its catalyst in an invitation to a group of artists from the Northern Tornadoes Project, a research team at Western Engineering. Committed to charting the increasingly important evidence of tornadoes throughout Canada, the Northern Tornadoes Project involves data collection and analysis directed towards myriad objectives. The invitation presents the opportunity for these artists to respond to data arising from a specific area of environmental research and to consider how they can contribute to interdisciplinary engagements with pressing contemporary issues, particularly related to the environment, global warming, human/non-human ecologies, and indigenous views on land and stewardship.

A forthcoming exhibition catalogue will include essays by Helen Gregory and Paige Hirschey and creative writing from Lindsay Dawn Dobbin.
Related Programming:
Panel Discussion
Wednesday, April 7 from 5:00 to 6:30p.m. EST on Zoom
Featuring artists Hannah Claus, Patrick Mahon, Ellen Moffat, Joel Ong, Eeva Siivonen, and Matthew Trueman, and Northern Tornadoes Project researcher Dr. Greg Kopp. Moderated by Curator Dr. Helen Gregory.

Virtual Exhibition Walkthrough
Take a closer look inside Written on the Earth at McIntosh Gallery. 
---

Hannah Claus is a Kanien'kehá:ka / English transdisciplinary artist who engages with the idea of space shaped by language, material culture and place as transversal living concepts. In her artistic practice, she critiques dominant colonial histories and makes present other voices, narratives and ways of seeing. A 2019 Eiteljorg Fellow and 2020 Prix Giverny recipient, her installations have been included in Ábadakone (National Gallery of Canada 2019), the touring exhibition Inaabiwin (Robert McLaughlin Gallery 2018) and Insurgence / Resurgence (Winnipeg Art Gallery 2017). Recent solo exhibitions include spatial codifications (YYZ Tkaronto) and trade | treaty | territory (Dunlop Art Gallery Regina). Claus is one of four co-founders of daphne, a new Indigenous artist-run centre in Tiohtià:ke. She sits on the Board of Directors of the Conseil des arts de Montréal (2018 – 2024) and previously served on the working Boards of the Aboriginal Curatorial Collective (2013 – 2018) among others. In August 2020, she joined Concordia University as Assistant Professor of Frameworks and Interventions in Indigenous Art Practice. Claus was born in Fredericton, New Brunswick and lives / works in Tiohtià:ke. She is a member of Kenhtè:ke (Tyendinaga Mohawks of the Bay of Quinte).

Patrick Mahon is an artist, a writer/curator, and a Professor of Visual Arts at Western University, in London, Ontario. Currently, he is Director of the School for Advanced Studies in the Arts & Humanities at Western. Mahon's artwork has been exhibited in Canada at The Art Gallery of Hamilton, the Southern Alberta Art Gallery, Museum London, The Museum of Contemporary Canadian Art, Toronto; internationally in exhibitions in China, France, Norway, and Switzerland; and in numerous print biennales since the early 1990's. Recent Canadian solo exhibitions include McMaster Museum of Art (2013); Wilfred Laurier University (2013); and University of Winnipeg (2014). Patrick's collaborative project, Immersion Emergencies and Possible Worlds, resulted in a ten-artist group exhibition, The Source: Rethinking Water through Contemporary Art, presented at Rodman Hall, Brock University, Canada, in 2014, with a second iteration, The Living River Project, at the Art Gallery of Windsor in 2019. Current and forthcoming solo and group exhibitions include: Patrick Mahon: Messagers' Forum, Thames Art Gallery Chatham (2020-21); and GardenShip and State, Museum London, co-curated by Patrick Mahon and Jeff Thomas, with a forthcoming group exhibition, 2021, and ongoing community projects, beginning in 2020.

Ellen Moffat's projects range from multi-channel sound installations to interactive electroacoustic instruments, and from gallery installations with performative elements to community projects. Rooted in the vocabulary of sculpture, her primary media is sound. Her work explores sound and space, the body and materiality as solo, collaborative and interdisciplinary projects. Her current creative research into the acoustic properties of materials uses various processes and actions for the live sound generation of sound using physical interfaces, materials, transducers, and real-time sound processing. Her work has been presented throughout Canada and internationally in solo, group and touring exhibitions in galleries and off-site locations including Remai Modern Gallery, Saskatoon (2018), Gallery 12-14, Vienna (2017), Dunlop Art Gallery, Regina (2015); NAISA, Toronto (2015); CAFKA, Kitchener (2013); Dalhousie Art Gallery, Halifax (2012); Kentler International Art Gallery, Brooklyn (2011); Epcor Centre, Calgary (2011-2012); Tel Aviv (2008). Her collaborations with performance artists, dancers, and musicians have been presented in Toronto, Saskatoon and Vancouver. Born in Toronto, she has lived and worked across the country. She is currently a PhD candidate at Western University in the Visual Arts Department in Studio.

Joel Ong is a media artist whose works connect scientific and artistic approaches to the environment, particularly with respect to sound and physical space. He is an Assistant Professor in Computational Arts and Director of Sensorium: The Centre for Digital Arts and Technology at York University. Professor Ong's work explores the way objects and spaces can function as repositories of 'frozen sound', and in elucidating these, he is interested in creating what systems theorist Jack Burnham (1968) refers to as "art (that) does not reside in material entities, but in relations between people and between people and the components of their environment". A serial collaborator, Professor Ong is invested in the broader scope of Art-Science collaborations and is engaged constantly in the discourses and processes that facilitate viewing these two polemical disciplines on similar ground. His graduate interdisciplinary work in nanotechnology and sound was conducted at SymbioticA, the Center of Excellence for Biological Arts at the University of Western Australia and supervised by BioArt pioneers and TCA (The Tissue Culture and Art Project) artists Dr Ionat Zurr and Oron Catts. His current artistic practice builds on his doctoral studies in data aesthetics and social activism (University of Washington, 2017) in the emerging environments of a post-pandemic future.

Eeva Siivonen is a moving image artist originally from Helsinki, Finland. In her work, she sutures together visual and sonic spaces where the small and forgotten becomes visible and amplified in an effort to create space for attention and empathy. She holds an MFA in Video Art from Syracuse University where she studied as a Fulbright scholar. She also has an MFA in documentary film directing from Aalto University in Helsinki. She is currently pursuing a practice-based Ph.D. in Art and Visual Culture at Western University in London, Ontario. Her work has been screened internationally at film festivals, gallery exhibitions, and video art events. Most recently, her work has been screened at San Francisco Cinematheque's Crossroads festival, at Barcelona International Short Film and Video Festival, and at Transient Visions Festival of Moving Image. Previously, her work has been screened at Black Maria Film Festival, Montreal Underground Film Festival, and Aubagne International Film Festival among others. She has also participated in gallery exhibitions such as Visions at the Nunnery Gallery in London, UK, and Were the Eye Not Sunlike — a collaborative video art exhibition organized by ACRE TV, Fernway Gallery, and the Museum of Contemporary Art in Chicago. She has received residency fellowships at multiple international artist residencies, most recently Helene Wurlitzer Foundation in New Mexico, Goetemann Artist Residency in Massachusetts, Terra Foundation in Giverny, France, and Munson Williams Proctor Arts Institute in Utica, NY.

Matthew Trueman is an artist based in London, Ontario. He works primarily in sculpture, site-responsive installation and video exploring Western Culture's relationship with the landscape through technology. This focus on technology was inspired by his background in engineering. He holds an MFA from Western University. His recent series of site-responsive installations, Instruments for Landscapes: Black Rocks, was the recipient of the 2019 Environmental Installation Award at Ocean Alliance in Gloucester, Massachusetts. In 2018 his Instruments for Landscapes: Pine Grove was created during a residency at I Park Foundation in Connecticut. Matthew has had previous exhibitions at DNA Art Space, McMaster Museum of Art, Thames Art Gallery, Westland Gallery, Museum London: Nuit Blanche and Hear Here London. His photographic works have been published in So Long South Street by Huron and Erie Press.



.
In Search of Symbol
Doug Dolman
April 29 - June 12, 2021
Doug Dolman, Subway 2, 1970. Oil on canvas. Courtesy the artist.  

Devoid of narrative or politics, Doug Dolman's paintings balance intellect and emotion in the form of pure abstraction. His deep impasto surfaces provide a tangible manifestation of his lifelong attempt to reconcile the chaos of human existence through repetition of a personal vocabulary of abstract symbols.

Following a year of study at the Montreal Museum of Fine Art School of Art and Design under Arthur Lismer, Dolman moved to Stockholm, Sweden in 1965, where he studied at Konstskolan Idun Lovén. Dolman was profoundly influenced by such luminaries of the expressionist movement as the Norwegian painter Edvard Munch and the German painter Emil Nolde, as well as the plays and films of Ingmar Bergman and the plays of August Strindberg. The experience had a lasting impact on Dolman's practice, which continues to be informed by the tenets of expressionism as evidenced by the use of vivid colour, strong brushwork, generous paint application, and highly textured surfaces.

Dolman divides his time between London, Ontario, and the island of Gotland, Sweden, with his wife, artist Agneta Dolman.
Related Programming:
Virtual Exhibition Walkthrough
Take a closer look inside In Search of Symbol at McIntosh Gallery.

Doug Dolman Interview Feature
Learn more about the artist's creative practice and influences in his own words.
becoming again beginning undone
Ellen Moffat
June 24 - July 24, 2021

Ellen Moffat,
becoming again beginning undone,
2021. Techno-organic. Courtesy of the artist.
becoming again beginning undone
is an intermingling of sensorial, temporal, visual, and cognitive aspects of sound, space, and listening. Sound art expands our thinking and understanding about boundaries, space, and social relations with the world and with each other. Listening situates us to the world in relation to others. The ubiquity and expansive character of sound means we are always within sound; we cannot turn it off. Active listening to sound extends our awareness to others and to difference as mutable relations within the resonant space of the gallery. Moffat's research is informed by such ideas and texts as Rosi Braidotti's "as if" as the interconnectivity of events, forces, and bodies; Yves Lomax's "conjugation" in which the coincidence of discrete actions results in a sonic event; and Salomé Voegelin's "listening" from the position of the sonic subject engaged with the world as sonic perception.
In the exhibition, small sounds, image, text, rhythms, and tonalities bleed into and mix with each other, transgressing the borders of the gallery space. A techno-organic sound installation of matter and found materials extends to an evolving notation of sound objects and text. Video animations mix and remix the language of sound in fleeting text-images of sense and non-sense. A bench-platform augments the physical sensation of sound. The sonic sensibility of becoming, beginning, undoing, and redoing connects the listener to sounds of difference and to language as a new symbolic space of subjective, objective, and collective relations. Sound, text, the senses, and cognition perform their becomings and beginnings, undone again.

About the artist
Ellen Moffat explores sound, space, and listening as relations of materials, sense, and bodies using electro-acoustic methods and experimental processes for sound generation. Listening connects the subject to the world and to others in a sonic space of fluctuation and difference with transformative potential for communication and social relations. Her work has been presented throughout Canada and in international exhibitions. Ellen Moffat is a PhD candidate in the Department of Visual Art at Western University. becoming again beginning undone is her graduate thesis exhibition.

www.ellenmoffat.ca

Related Programming:
Virtual Exhibition Walkthrough
Take a closer look inside becoming again beginning undone at McIntosh Gallery.

---
The No No-Exit Closet
Faith Patrick
June 24 - July 24, 2021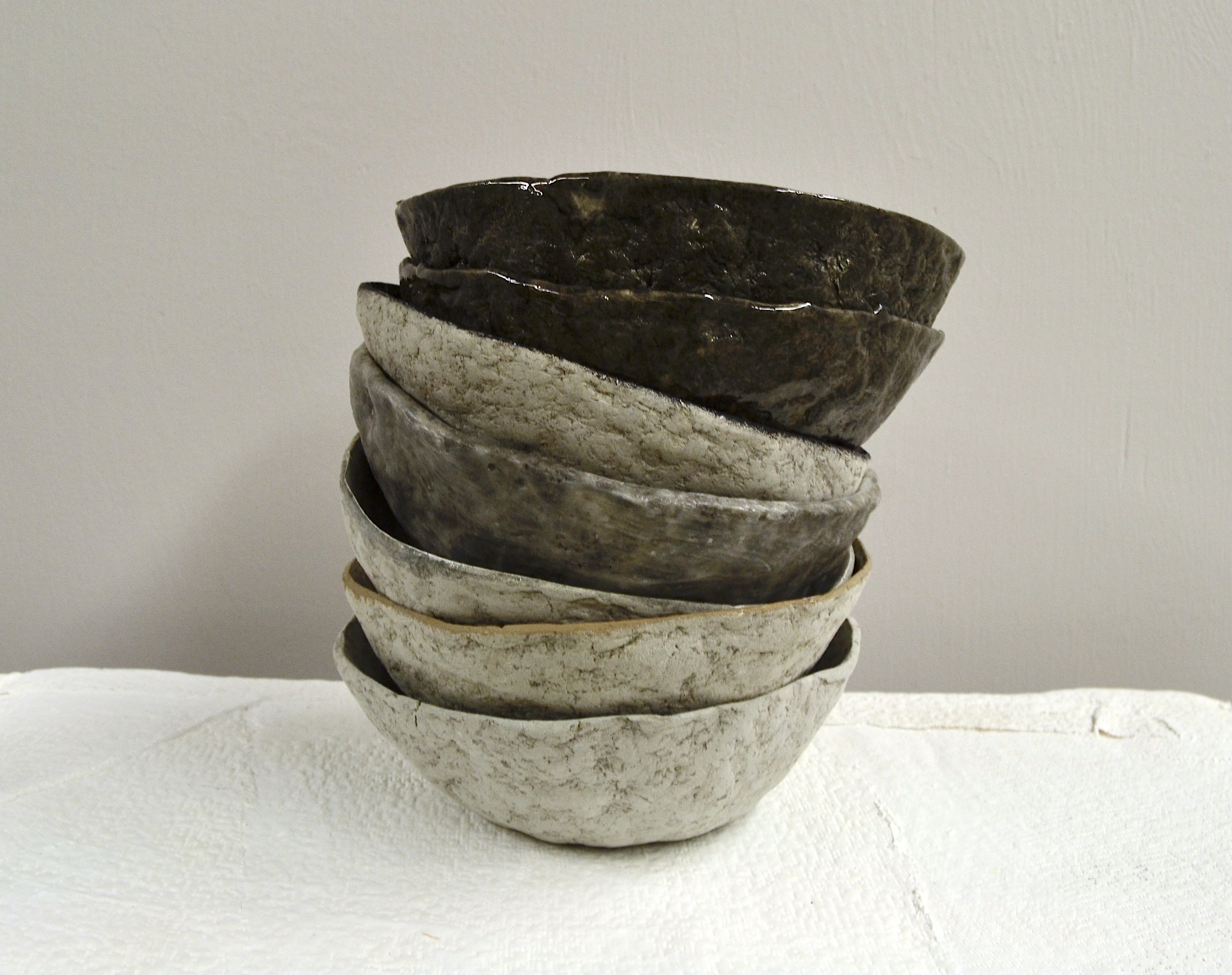 Faith Patrick, in collaboration with Maxwell Lucas. Containers, 2020. Pulped wastepaper, beeswax, resin. Courtesy of the artist.

It is human nature to put things in places, boxes, and closets, expecting them to never reappear. Invariably, however, these things come back to confront and even haunt us and others, including those who survive us. After having been dispatched to places that we imagined would provide no exit, these objects reappear and demand of us, or those entrusted with our property, decisions we had hoped would never have to be made - decisions that are now even more complicated and unresolvable than they would have been had we faced them the first time around. The hoped for no exit does not exist.

About the artist
Faith Patrick seeks to heighten our conscious and ethical relationship to the labours, habits, rhythms, and materials of our domestic lives by directing attention to the otherwise overlooked meanings of these everyday encounters. Storage structures as they present within the realm of the everyday, specifically the closet, have been consistent and recurring themes throughout her practice. The closet is the structure through which Patrick has developed a heightened ethical awareness of how she consumes, stores, throws away, and reuses the materials that enter and exit her life. Faith Patrick is based in London, Ontario where she is completing her MFA in studio art at Western University. The No-No Exit Closet is her graduate thesis exhibition.
www.faithirenepatrick.com

Some of the works in this exhibition were made in collaboration with Maxwell Lucas. Maxwell Lucas is an artist, musician, and composer based in London, Ontario.
www.maxrlucas.com

Related Programming:
Virtual Exhibition Walkthrough
Take a closer look inside The No No-Exit Closet at McIntosh Gallery.
Graduate student exhibitions at McIntosh Gallery are presented in memory of King's College alumnus Gregory Franklin Child through the generous support of Western University Arts and Humanities alumni Paula Case Child and Timothy Child.
Remnants, Outlaws, and Wallows: Practices for Understanding Bison
Michelle Wilson
August 5 - September 11, 2021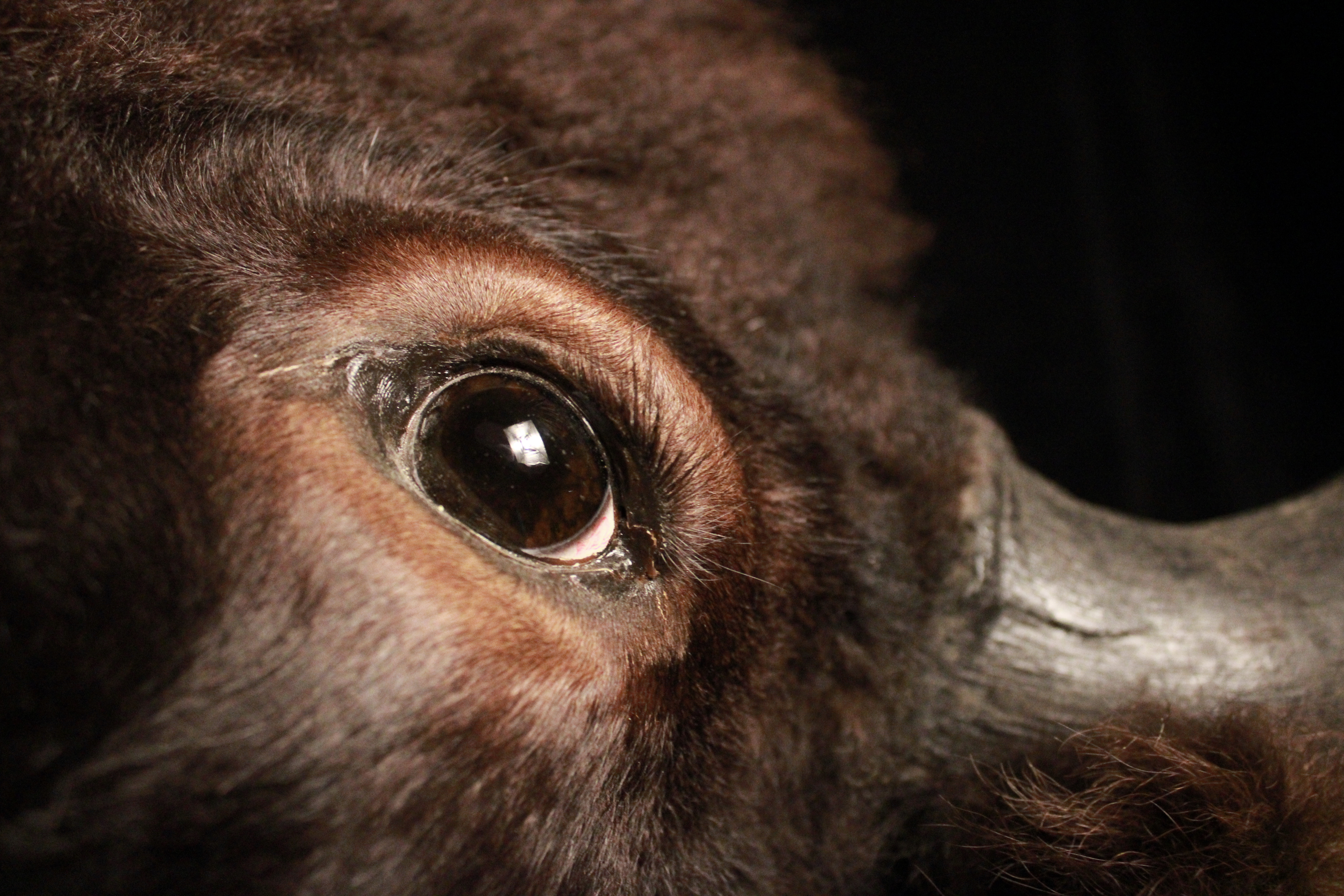 Michelle Wilson, Reclamation (performance documentation), 2019. Image courtesy of the artist.
Bison were never meant to survive colonial expansion. In the United States, there was an unwritten yet well-known military campaign to eradicate the bison, the life source of many Indigenous nations resisting governmental subjugation. In Canada, their depletion was insidious because the Government planned their obsolescence. Canada's politicians may have conceded that they could save some bison as living specimens of a lost species, but the rest would fall before the advancing tide of white settlement. With the bison would go the multiple First Nations living in concert with them.

The bison's near-extinction was a tool of assimilation; the famine that resulted from their loss drove many to sign treaties and accept reserves. The attempted erasure of bison and Indigenous peoples resonate with one another because, as theorist Aph Ko points out, the logic and systems of white supremacy have labeled both as animal in relation to the white human. And so, both have been treated as a wild other to be conquered and brought into proper relation to white human society. It was at the tipping point of bison extinction that the Canadian Government swooped in to save them. Settlers have been in the business of corralling, culling, and mythologizing the bison ever since.
This relationship with bison, established by settlers, has been inherited by today's generation. There are ways of knowing bison that we have inherited as well. These ways position them as artifacts, as population numbers and data. The works in this exhibition reflect Wilson's process of confronting and attempting to unlearn reductive and isolating taxonomical perspectives that arise from colonialism's continuing legacy. They suggest ways of knowing through relationships and manifest what happens when we critically reconsider received facts with care, attention, and time. While bison are the centre of this exhibition, the inter-media and interdisciplinary works within it enact an enmeshed way of knowing the world; through the human and more-than-human beings that form it and are formed by it. Here, looping tendrils criss-cross and lead us toward understanding.
Wilson proposes that knowing, as presented in this exhibition, is meant to be understood and experienced through relationships, and therefore it is an ongoing and forever changing creative investigation— one without an endpoint.

About the artist
Michelle Wilson is an artist and mother currently residing as an uninvited guest on Treaty Six territory in London, Ontario. In her current work, she makes palpable the presence and absence of bison and their inseparability from the land and its people. In the Euro-American archive, bison bodies have been used to convey colonial knowledge systems, and their story of survival has been used to perpetuate myths of "settler saviours". This is the legacy that Wilson, as a feminist of settler descent studying in colonial institutions, has inherited and is confronting. She is currently a Ph.D. candidate in Art and Visual Culture at Western University. Remnants, Outlaws, and Wallows: Practices for Understanding Bison is her graduate thesis exhibition.
Artist Website
Related Programming
Virtual Exhibition Walkthrough
Take a closer look inside Remnants, Outlaws, and Wallows at McIntosh Gallery.
Virtual Symposium
Friday, September 10, 2021, on Zoom

Artist Michelle Wilson (Ph.D. Candidate, Western University) moderates a virtual roundtable discussion on the interconnectedness of bison, settler colonialism, conservation, and Indigenous peoples. Mary Lou and Dan Smoke presented a greeting and musical performance. Guest panelists included Wes Olson, Bison Specialist and Retired Park Warden (Elk Island National Park), Les Campbell, Indigenous Affairs Manager (Riding Mountain National Park), and KC Adams, a Nêhiyaw, Anishinaabe, and British social practice artist and educator (Winnipeg, MB).


Graduate student exhibitions at McIntosh Gallery are presented in memory of King's College alumnus Gregory Franklin Child through the generous support of Western University Arts and Humanities alumni Paula Case Child and Timothy Child.
What About Me?
Greg Curnoe
September 30 - November 6, 2021
Curated by Brian Lambert
at TAP Centre for Creativity 203 Dundas Street, London, Ontario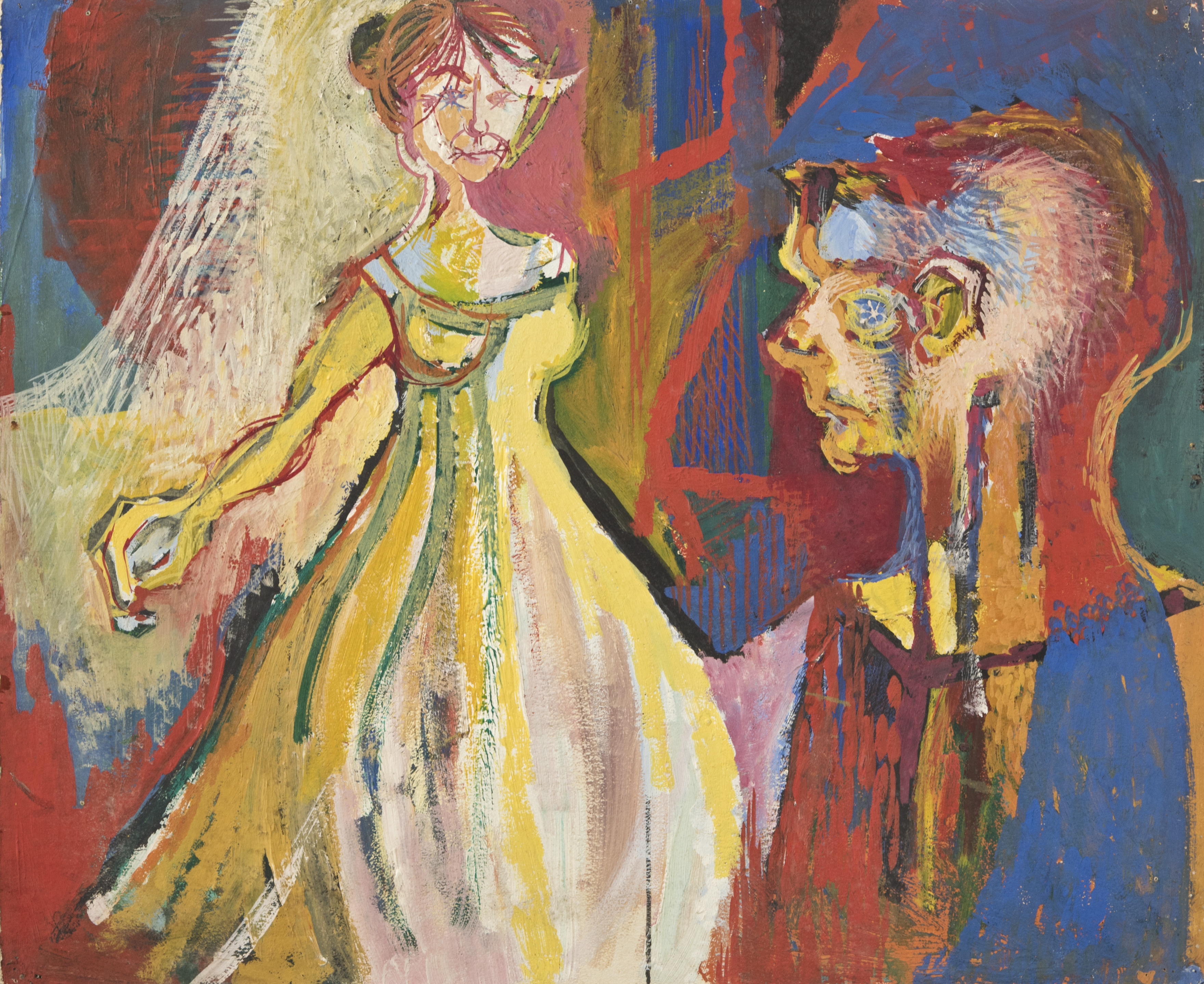 Greg Curnoe, Us And a New Dress (Self Portrait)  no date. Oil on board. McIntosh Gallery Collection, Western University. Gift of Sheila Curnoe, 2018.
In 2018, Sheila Curnoe donated over 500 artworks by her late husband, the celebrated London-based artist Greg Curnoe, to McIntosh Gallery. The donation included many early works completed while a student at the Ontario College of Art from 1957 to 1960. Together, they reveal the characteristic colour and line that would define his distinctive later style.
Other works in this important gift are from Curnoe's earliest studio practice with some of his satirical Dadaist constructions critical of prevailing art traditions.
McIntosh Gallery is pleased to present this exhibition in collaboration with 
TAP Centre for Creativity
 as an opportunity to share Greg's passion for alternative display spaces and reach new audiences for his art.
Greg Curnoe
 (1936-1992) was an artist-activist who was central to the development of the 1960s London art scene into an important artistic centre. Rejecting the notion that an artist could thrive only in the big cities of Toronto or New York, he instead founded the Regionalism movement which celebrated everyday life and experience.
He was involved in organizing many firsts in the community: the first art "happening" in 1962; Region Magazine (1961-1990); Region Gallery (1962-1963); and Canada's first artist cooperative, the Forest City Gallery in 1973, still in operation today. He was also a founding musician in the Nihilist Spasm Band which specialized in improvisational music on homemade instruments. He was very supportive of fellow London artists Jack Chambers, Tony Urquhart and Kim Ondaatje who founded the Canadian Artists Representation/Le Front des Artistes Canadiens to demand recognition of artist copyright.
Curnoe exhibited extensively including representing Canada at the Sao Paulo Bienal (1969) and the Venice Biennale (1976) and in major exhibitions at the National Gallery of Canada (1968), the Musée des beaux-arts de Montréal (1981), and at the Art Gallery of Ontario (2001). His work is held in numerous major public and private collections.
Related Programming
Exhibition Teaser Trailer
Get a behind-the-scenes look inside Greg Curnoe's home studio 
Virtual Exhibition Walkthrough
Take a closer look inside What About Me? at TAP
Curator-led Exhibition Tours
October 14, 26, and 28, 2021 at TAP Centre for Creativity 
Greg Curnoe: Working on Film 16mm Film Screening 
October 28 & 30, 2021


The Botanical Turn
September 30 - November 6, 2021

Carrie Allison, Paul Chartrand, Joscelyn Gardner, Zachari Logan, Sarah Maloney, Amanda White, and ZOFF
Curated by Helen Gregory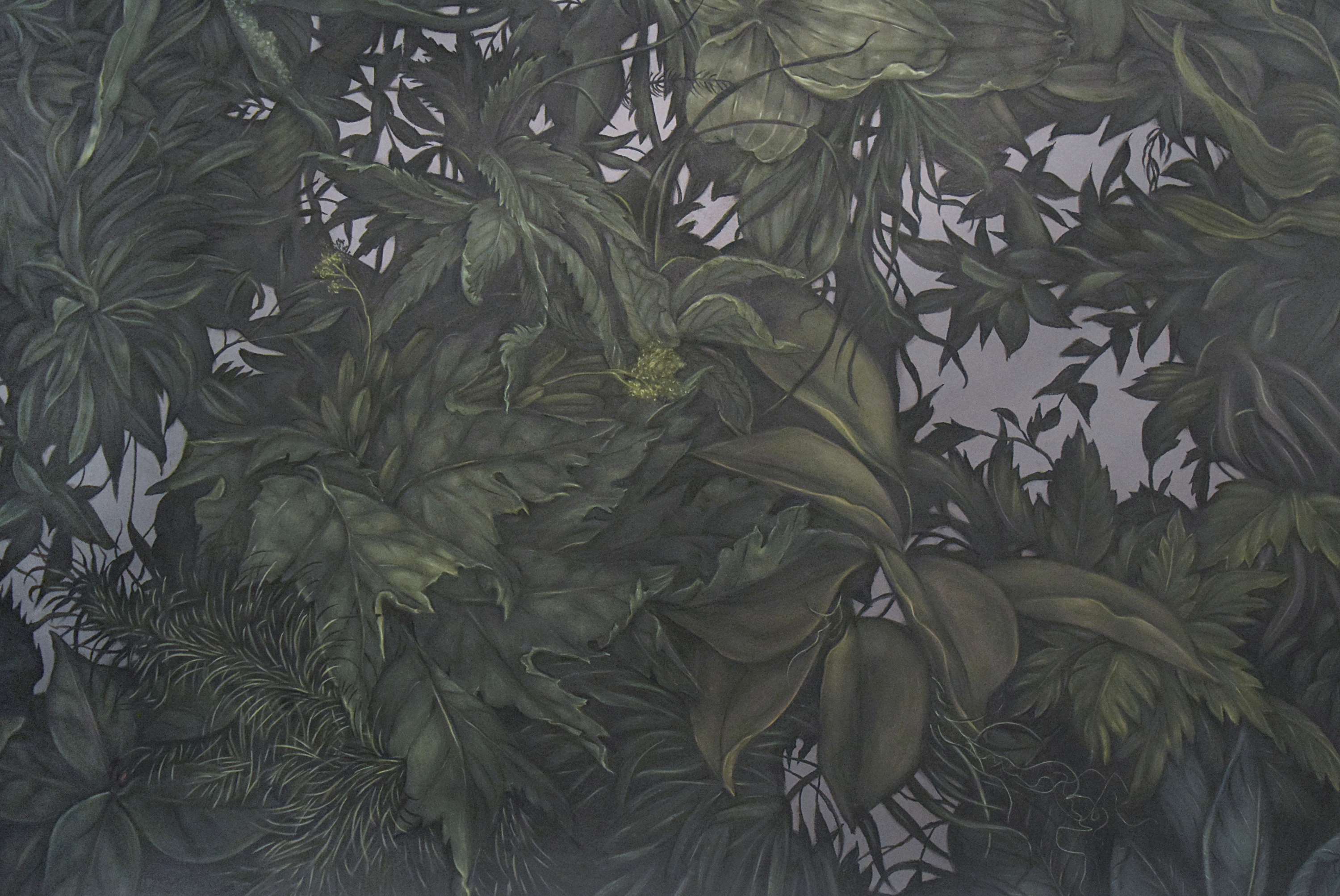 Zachari Logan, Nel Mezzo Del Cammi Di Nosta Vita (The Gate) (detail) 2018. Chalk pastel on paper. Courtesy of the artist and Paul Petro Contemporary Art.
Bringing together artists working across media including beadwork, embroidery, drawing, printmaking, sculpture, and hydroponics, The Botanical Turn examines how botanical imagery has been used to explore issues of agency, identity, gender, empowerment, and colonization. In recent years, there has been a proliferation in the use of botanical imagery in contemporary art to explore complex ideas and to articulate embodied knowledge. Given the current focus on human/non-human relationships as we consider our impact on the natural world, it is unsurprising that the examination of the role of plants within human systems of meaning is increasingly extending beyond the scientific and ecological to encompass the socio-cultural and metaphysical. As Donna Haraway reminds us, no species acts alone. "We have a mammalian job to do, with our biotic and abiotic sympoeitic collaborators, colaborers … Who and whatever we are, we need to make-with—become with, compose-with—the earth-bound." Each of the artists in this exhibition considers interspecies relationships between humans and plants through various perspectives, be they concerned with the making of kin, self-determination, or critique of use-value.

For this exhibition, Nêhiýaw/Cree and Métis artist Carrie Allison utilizes the slow, meditative practice of traditional beadwork to depict a series of plants with healing properties, drawing parallels between beading as an act of care and our collective responsibility to care for the earth's flora. With a focus on the relationship between people and plants, Allison references the Indigenous belief that the plant family was the first family on earth and sustains all other life forms, both human and non-human. Paul Chartrand's practice engages with environmental issues through the construction of sculptural life support apparatuses populated with living plants. Here he critiques a human-centred view of plants, positioning science in relation to gender and use-value as it relates to cannabis cultivation in which an unpollinated "virgin" sinsemilla clone is valued for its medicinal value rather than its reproductive value. Creole-Canadian artist Joscelyn Gardner weaves together images of intricately braided Afrocentric hairstyles, brutal iron slave collars used to punish enslaved women who had been accused of inducing abortions, and the botanical specimens purportedly used as abortifacients, highlighting the imbrication of the slave trade, colonization, print culture, and the Enlightenment pursuit of natural history. Zachari Logan explores queer identity, memory, and place using depictions of Saskatchewan wildflowers to challenge accepted images of the male body. Often using images of ditch-weeds, Logan draws parallels between plants that are regarded as undesirable and relegated to the margins, and queer sexuality which often occupies a similarly peripheral space. Sarah Maloney applies a feminist lens to consider the scientific, cultural, and economic values of botanical specimens and how they have shaped history and material culture, and have been implicated in the construction of nature and gender. Concentrating on maligned and overlooked common weeds, Amanda White considers the use of language and rhetoric around such species, in particular the distinctions between the categories of introduced, invasive and noxious, and examines the language used to describe them in the context of settler and Indigenous relationships, nationalism, and xenophobia. The exhibition also includes the extraordinary "The Land is the Word The Word is the Land" Cape, created by Toronto-based designer ZOFF with LUXX Ready-to-Wear, and worn by Jeremy Dutcher for his performance at the 2019 Juno awards. The cape combines floral embroidery and Cree syllabics to celebrate the protectors of this earth, Dutcher and the Wolastoqiyik peoples, and to inspire all nations, faiths, ethnographic identities, sexualities, and gender identities.

An exhibition catalogue is forthcoming, featuring essays by Giovanni Aloi, Helen Gregory, and Franchesca Hebert-Spence.
Related Programming
Panel Discussion
October 7, 2021, at 7:00 p.m. EST
Featuring Carrie Allison, Paul Chartrand, Joscelyn Gardner, Zachari Logan, Sarah Maloney, and Amanda
White.Moderated by Dr. Helen Gregory
McIntosh Gallery hosted a panel discussion on Zoom in partnership with the Western University Department of Visual Arts Art Now! Speaker Series on Thursday, October 7 at 7:00 p.m. EST. Moderated by exhibition curator Dr. Helen Gregory, The Botanical Turn artists discussed how plants and botanical imagery have informed their art practices. More info

Virtual Exhibition Walkthrough
Take a closer look inside The Botanical Turn