2022 Exhibitions
the moonlight made me do it
Angie Quick
January 13 - February 19, 2022
Curated by Helen Gregory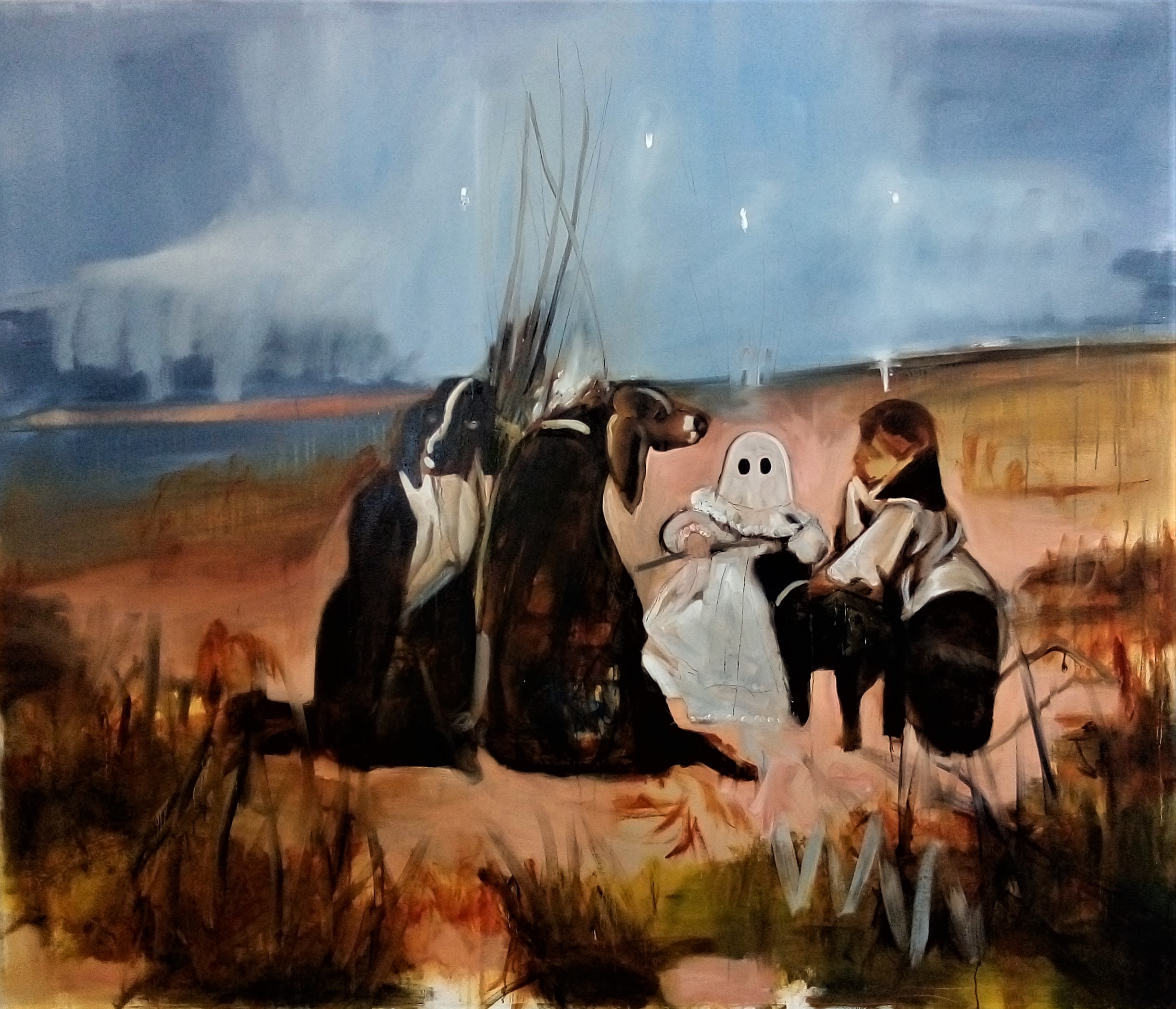 Angie Quick,
tell it to me like i have been bad all my life
 2021. Oil on canvas. Courtesy of the artist.
Initially inspired by the gift of a deck of Moon Cards – a purported means of harnessing the power of the moon to gain clarity and connect to your intuition and emotional health through self-love and ritual – London, Ontario-based artist Angie Quick discovered that the cards' intended purpose instead became the catalyst for an investigation into human culpability. When the influence of the moon takes effect, are we fully responsible for our deeds and desires?
Throughout these paintings, Quick combines art historical tropes such as landscape painting, images of hunting dogs and dead rabbits, and frolicking cherubim to create a lexicon of images that are apocalyptic but tempered by an infusion of hope and an otherworldly sweetness. Familiar images are rendered uncanny through the insertion of peculiar elements: babies are adorned with strange hats and ghost costumes; rabbits gather around what appears to be a mound of earth but on second glance is a pair of upturned female buttocks; a deceased cat is transported to heaven by a host of faceless cherubim; and seemingly traditional landscapes are interrupted by gestural marks of pure abstraction. Collectively, they invoke an aura of cosmic strangeness, demanding that we rethink the natural world and open ourselves up to the possibility of new historical and futuristic imaginings.
Angie Quick
(she/her) is an artist working in the London Township Treaty territory. 
---
six feet | between us
Derek Boswell
January 13 - February 19, 2022
Curated by Kevin Heslop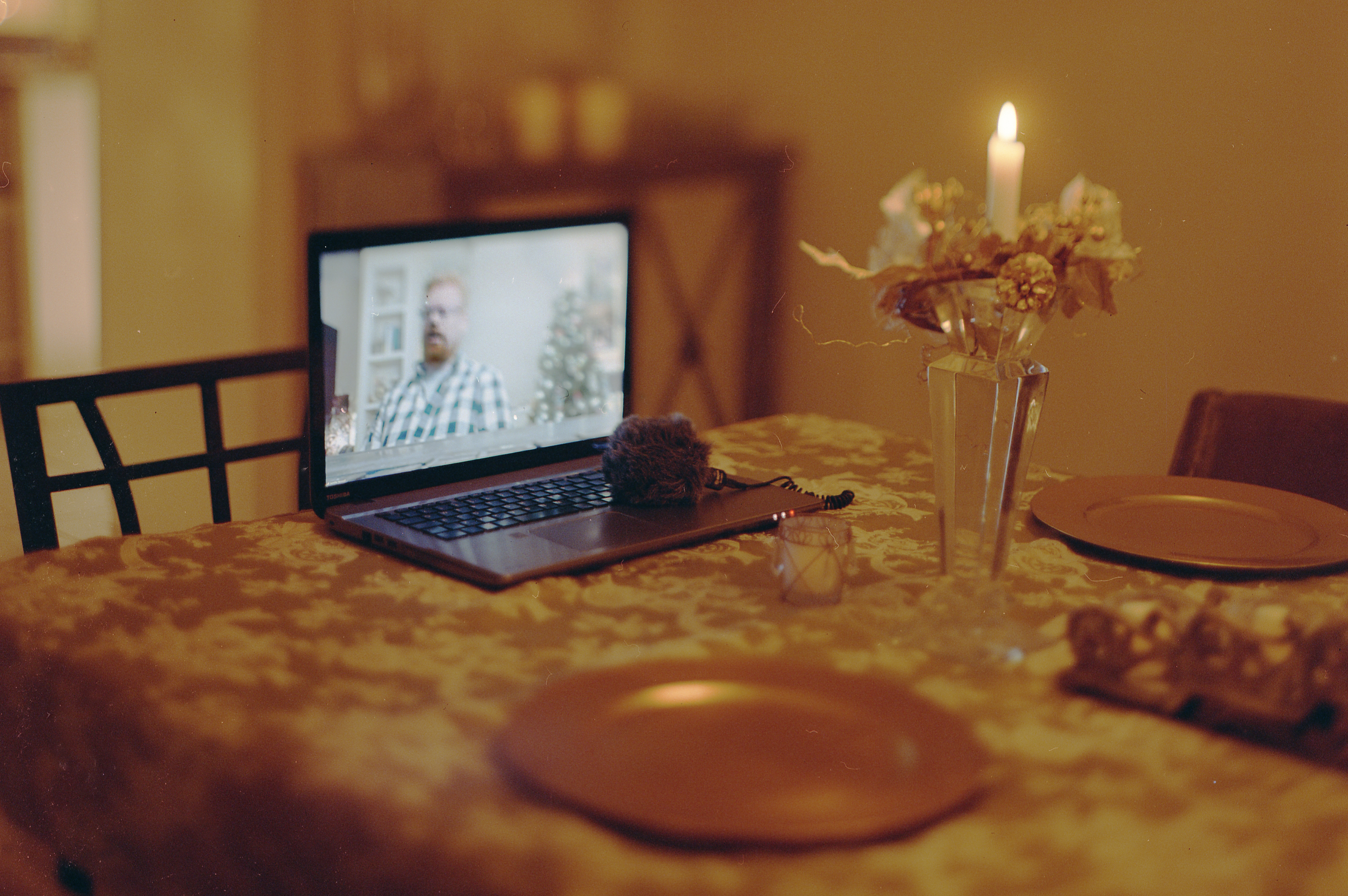 Derek Boswell, this too (detail) 2020. Chromogenic print from Kodak Portra negative. Courtesy of the artist.
six feet | between us is a 10-dyad, transdisciplinary dialogue between photographer Derek Boswell and poet Kevin Andrew Heslop on topics of single-use consumption, capitalist ecocide, and the fetishized individualism of the Anthropocene vis-à-vis the COVID-19 pandemic in London, Ontario. Its ten photographs, whose subjects range from the annual airshow to the separation from grandparents and the public disposal of single-use masks, are accompanied by poems sourced from the transcripts of conversations about each photograph. The transdisciplinary nature of the exhibition engages the possibility of communication across divides, a metaphor for earnest, polyvocal discussion of the multiple global crises we continue to face with increasing frequency, counterbalanced with a possible vaccine for the virus of catastrophe, namely tranquil meditation, the dissolution of the individual, and resourceful creativity. Like candied medicine, Boswell's photographs visually intrigue the viewer, compelling and catalyzing insight and introspection. His themes as a social documentary photographer whose work "acts as a patron searching through the shop-worn bargain racks of a department store; seeking that diamond in the rough" are at home here. Heslop's poems likewise attend to principles of compositional balance, phonetic harmony, and syntactic innovation, encouraging the reader to relish unusual meanings available in the texts. Consider, for instance, the lines

This syntactic torsion proposes to destroy and enphoenix the colonial, heteronormative repository of the English language while the embedded title of the exhibition itself, a meditation on both the enforced distance among participants in a viral society and the distance between our bootsoles and the dead, proposes several questions: if the best of Western philosophy and the English language has brought us to a state of environmental catastrophe, of what use are either? From each, what inevitabilities ensue? Will that which precipitated this pandemic precipitate another? "the virus is the thought we are individuals the thought we are individuals is / the virus is the thought we are individuals the thought we are individual is / the virus is make the impermeable barrier of the self great a / -gain wealth forgetting all but self i …" If we proceed to indulge in the myth of individuality, which is to say a unit of consciousness separable from its environment, and if we continue to promote the myopic supremacy of the individual over that environment, Heslop and Boswell suggest, catastrophe will ensue: favour dialogue, meditation, resourcefulness; go light
.
Derek Boswell

 
is a Canadian artist, born in 1995, in London, Ontario. Derek's work primarily centres around the medium of photography and draws from his wide-ranging explorations of topics such as the Anthropocene, esoteric photographic techniques, and the role of photography's truthful traditions in a post-truth world. Derek is a graduate of Western University's Visual Arts program and is currently a teacher-candidate at Althouse College.


Kevin Andrew Heslop

 
is a polydisciplinary doofus from where Deshkan Ziibi antlers unceded to treaty through London Township Purchase [sic] territory whose debut poetry collection,
the correct fury of your why is a mountain
, appeared with Gordon Hill Press in 2021 and whose work as a filmmaker, journalist, playwright, and curator is forthcoming with Museum London (2022), The /temz/ Review (2022), TAP: Centre for Creativity (2022), and Westland Gallery (2023) respectively.
Where Can I Go Now?
Thelma Rosner
March 3 - April 16, 2022
Curated by Helen Gregory
Thelma Rosner, Five Years' Passage (detail). Mixed media installation. Courtesy of the artist.
Throughout her practice, London, Ontario-based artist Thelma Rosner has consistently employed narrative as a means to reflect on the Jewish diaspora. The catalyst for this exhibition was an autobiographical work written by Elisabeth M. Raab, a survivor of Auschwitz concentration camp during World War II. Beginning in 1944 with the forced transport from her home in Hungary to Auschwitz, Raab ultimately went on to make seventeen separate journeys over the ensuing five years. Permanently displaced following her liberation by Allied forces in 1945, Raab no longer had a home to which she could return and was left to travel throughout Europe without any clear connection to place.
Rosner considers Raab's postwar experience within a recent historical trajectory, making connections between post-war displacement and the plight of contemporary refugees. In preparation for this project, Rosner consulted immigrants to Canada, including members of her own family, personal acquaintances, and new Canadians met through the London Cross Cultural Learner Centre. After interviewing each person, Rosner requested permission to photograph a significant object brought with them on their journey to Canada. Each object is linked to a past life and carries profound emotional resonance. Inextricably connected to memory and place, these objects are souvenirs in the truest sense of the word. In the absence of their original contexts, they form tangible connections to a past life, evoking memories, emotions, stories. As Susan Stewart reminds us, "this capacity of objects to serve as traces of authentic experience is, in fact, exemplified by the souvenir. The souvenir distinguishes experiences. We do not need and desire souvenirs of events that are repeatable. Rather we need and desire souvenirs of events that are reportable, events whose materiality has escaped us, events that thereby exist only through the invention of narrative." Displaced from their points of origin, each of the objects that Rosner depicts evokes a narrative that keeps memories from fading into impermanence.
Thelma Rosner is a London, Ontario-based artist whose practice includes painting, printmaking, and installation. In the 1970s, Rosner was a part-time student in the Fine Art department at the University of Western Ontario under the mentorship of Paterson Ewen. Although some of her professors warned her against the danger of "illustrating stories", Ewen didn't impose such restrictions. Over the years, Rosner has become increasingly interested in the power of narrative and has often turned to books as stimuli for her artistic practice. The subjects of her work include food and culture, and the intersections of Jewish and Muslim history. More recently, her work has been inspired by the personal narratives of immigrants and refugees to Canada. Rosner suggests that this interest is perhaps a reflection of the stories told to her by her own immigrant parents and family.
Rosner has exhibited widely across Ontario, at such galleries as Museum London, McIntosh Gallery (London, ON), Justina M. Barnicke Gallery (Toronto), Burlington Art Centre, Art Gallery of Peterborough, Robert McLaughlin Gallery (Oshawa), and McMaster University Art Gallery (Hamilton). Her work is held in numerous private and public collections including the Canada Council Art Bank, Museum London, London Board of Education, McIntosh Gallery, Western University, John Labatt Ltd., and London Life Insurance. She is the recipient of grants from the Ontario Arts Council, Banff Centre for the Arts, and Canada Council for the Arts.
---
Unconventional
20th Century International Prints from the McIntosh Gallery Collection
March 3 - April 16, 2022
Ronald Kitaj (American, 1932-2007), The Defects of Its Qualities (detail)  1967. 11 colour screenprint, photo screenprint collage. McIntosh Gallery Collection, Western University. Gift of David and Marilyn Conklin, 2010; © The Estate of R. B. Kitaj, courtesy Marlborough Gallery, New York.
The McIntosh Gallery Collection of over 4,200 objects is widely recognized for its unique holdings as a rich resource for the promotion and appreciation of local and nationally significant artists. In addition, works by distinguished international artists help position Canadian art practices within a global context. This diversity is made possible by all of our generous donors whose invaluable contributions have significantly enhanced the Collection's development.
Among the numerous artworks given by longtime supporters David and Marilyn Conklin is a selection of outstanding international prints by Jim Dine, Richard Hamilton, Ronald Kitaj, Robert Motherwell, and Antoni Tàpies. During careers launched in the social and economic upheavals of the mid-twentieth century, their work challenged categorization with their individual unconventional approaches to artmaking. They elevated commonplace objects into iconic symbols, appropriated images from popular culture, and embraced autobiographical and figurative elements in direct opposition to minimalism and conceptualism.
Insect as Idea
Carl Beam, Christi Belcourt, Catherine Chalmers, Andrea Cooper, Aganetha and Richard Dyck, Jude Griebel, The Institute of Queer Ecology, Jennifer Murphy and Amy Youngs
Featuring insect specimens from the Zoological Collections, Department of Biology, Western University
April 28 - June 18, 2022
Curated by Dr. Helen Gregory and Dr. Nina Zitani

Jennifer Murphy, Scarab Butterfly  2020. Collage of cut images from second-hand books sewn together with thread. Courtesy of the artist and Clint Roenisch Gallery.
From the imperceptible flutter of a butterfly wing to the electric buzzsaw whine of summer cicadas, the thrum of insects forms a subtle soundtrack to our quotidian existence. Insects have captured human imagination for centuries. The ancient Greeks equated butterflies with the soul to such an extent that they used the same word – psyche – to refer to both. Aristotle devoted considerable attention to the study of natural history and was especially fascinated by the complete metamorphosis of insects. He regarded the transformation as a means by which an imperfect animal could attain the condition of perfection, which he associated with the notion of telos, meaning full potential or inherent purpose.
Insect as Idea examines insects within a multispecies framework, considering the role that they play throughout ecological systems. How have we learned from insects in the past and what can they tell us about the future? If we read insects as bellwethers or even, more poetically, as ideas made manifest, what does their disappearance say about human-earth relationships? This exhibition puts the work of artists Carl Beam, Christi Belcourt, Catherine Chalmers, Andrea Cooper, Richard and Aganetha Dyck, Jude Griebel, The Institute of Queer Ecology, Jennifer Murphy and Amy Youngs in conversation with the exquisitely beautiful historical collection of Riker Mounts housed in the Zoological Collections at Western University. Many of the specimens housed in the Zoological Collections were collected in the early twentieth century by former professors and scientists as part of their research projects. Other specimens were collected by local hobby naturalists and later donated to Western, including a collection of Riker mounts on display here. Such historical collections have roots in the history of colonialism and are characterized by the impulse to exhibit dominance over nature through the collection and display of rare species. Today, however, they collectively serve a new role in documenting past species occurrences allowing scientists to track changes in biodiversity locally and globally. They are also an important educational tool, allowing students to see real specimens of insect biodiversity from North America to the Amazon Rainforest, Africa, India, Southeast Asia and other localities around the globe.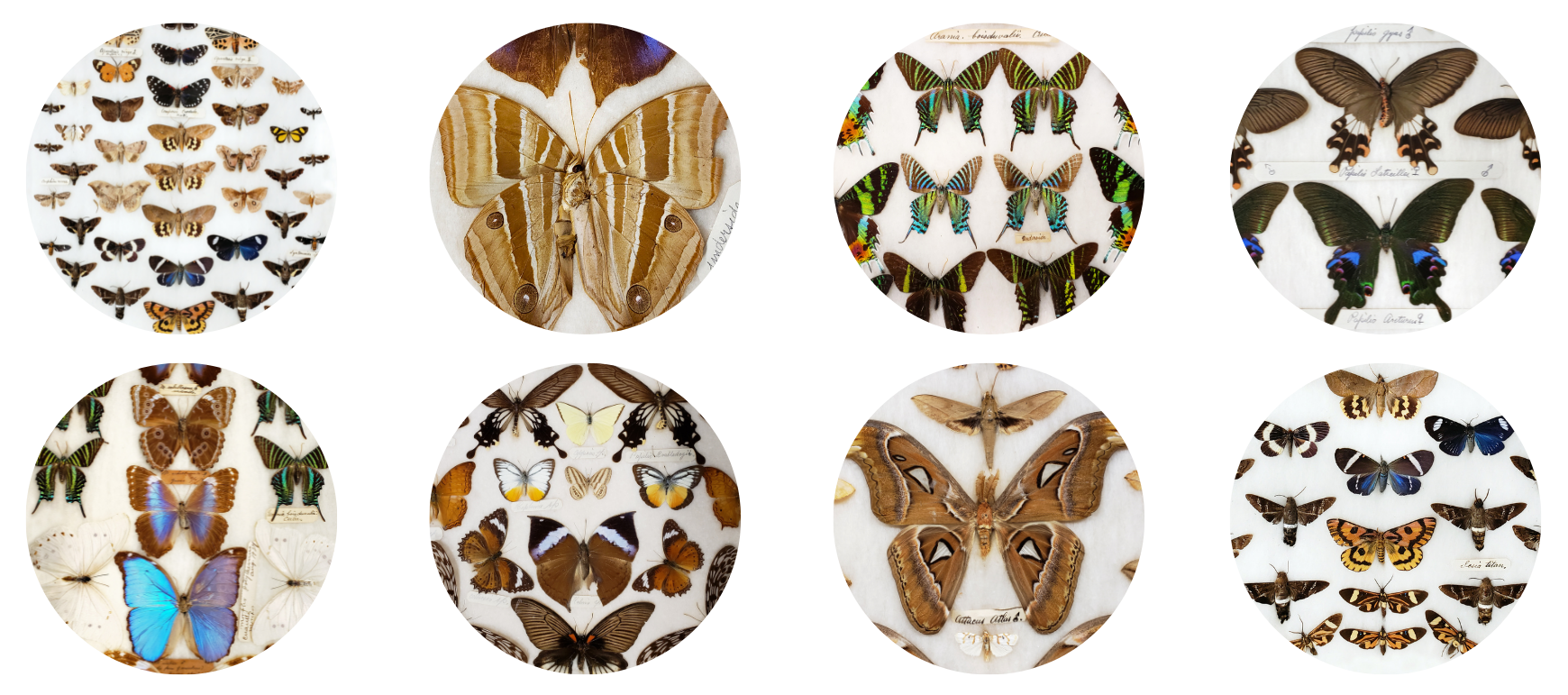 Zoological Collections, Department of Biology at Western University. Image credit: Brian Lambert.
Each of the artists in this exhibition considers insects within a multispecies ecology or cultural history. In a work from The Columbus Project, Carl Beam juxtaposes images of bees with a portrait of Christopher Columbus, addressing the historically imbricated impulses of exploration, discovery and colonization, with analysis and classification. Christi Belcourt intertwines bees, birds, strawberries, and other native plants to underscore the interconnectedness of living things within the natural world. Catherine Chalmers presents a series of extraordinary films, drawing parallels between the behaviour of neo-tropical leafcutter ant colonies and the human traits of language, ritual, war, and art, with the aim of blurring the lines between culture and nature. Originally created for Instagram, Andrea Cooper's film Wild Honey provides a metaphorical exploration of fertility, colony collapse disorder, and climate change. Aganetha and Richard Dyck work collaboratively with bees to co-create works of art, in this instance through the use of a flatbed scanner inserted into a beehive. New work from Jude Griebel takes inspiration from Victorian anthropomorphic illustration to imagine a tiny entomological protest against the current ecological crisis. The Institute of Queer Ecology's three-part film Metamorphosis is a call to reimagine and rebuild the planet, employing the metaphor of the life-cycle of an insect in which the organism fully restructures itself to adapt to its changing needs and ensure its survival. Jennifer Murphy combines images culled from old nature books to create composite forms that remind us of the complexity of ecological relationships. Amy Youngs "shakes hands" with a cluster of composting worms in an interspecies gesture of respect that acknowledges our dependence on the organisms that decompose our waste. Collectively, the work encourages us to consider the importance of monitoring insect biodiversity as an indicator of the health of an ecosystem, be it thriving or imperiled.
McIntosh Gallery thanks Dr. Kirsty Robertson for the original exhibition concept. Helen Gregory extends her gratitude and appreciation to her students in the Department of Visual Arts Museum and Curatorial Studies Practicum course for their input during the development of this exhibition: Avory Capes, Meghan Carnegie, Stephanie Fattori, Sarah Fletcher, Kaitlyn German, Megan Goddard, Emma Hennessey, ShaSha Hou, Kaede Kusano, Etienne Lavallee, Emma Morin, Roshieka Russell, Serena Shearly, Hanyu Xi, and Turing Xu. Nina Zitani wishes to thank her student volunteer curatorial assistants Fraser Allen, Ryan Chieu, Shukri Matan, Donald Tyler Watson M.Sc., and Natasha Weppler for their dedication and hard work helping to curate and maintain the Zoological Collections, and Staff member Mitchell Zimmer for photographing specimens. Without their input this exhibition would not have been possible.