2015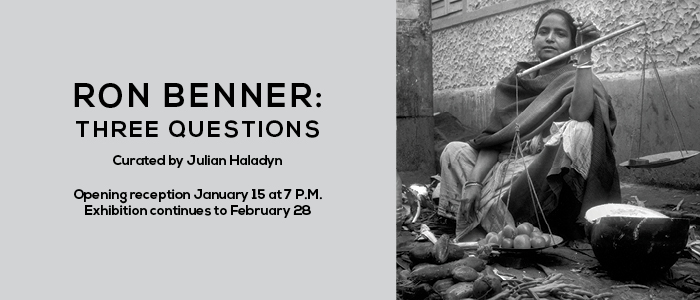 Ron Benner: Three Questions
January 15 to February 28, 2015
Opening reception | Thursday, January 15 at 8 P.M.
Curated by Julian Haladyn
London Ontario artist Ron Benner has been producing mixed-media photographic installations, including gardens and site-specific projects, for over three decades. His recent practice focuses on an examination of the politics of food and related topics, interrogating systems of knowledge connected to histories of farming, agriculture, plant science and the movement of plants around the globe. By his own account, Benner has travelled the world following the trade routes of primarily plants native to the Americas. This exhibition of gallery installations highlights key questions raised by his studio practice, research and travel.
Ron Benner: Three Questions presents three recent mixed-media photographic installations, produced between 2009 and 2014, each relating to a specific question. In the first, Why is the Tomato to Blame?, a series of tomato plants accompany two juxtaposed images of a photograph taken in 1997 by the artist that depicts a woman in Mysore, India selling tomatoes on a scale and a photograph taken by Bill Madison of a woman killed in 1960 when a pyramid of tomato cans fell on her in a supermarket. The second, Wh…?, explores the artist's connection to a question presented on the side of a barn outside London, Ontario, which asked: "Where Will You Be In Eternity?" Benner presents photographs of the barn along with the material fragments of the question, collected after the structure was blown down in a storm. The final installation Transend: Meeting Room is created as a space for questioning in which Benner makes available part of his personal library that deals with food, farming, agriculture and the political economy related to these issues. To read an interview between Ron Benner and curator Julian Haladyn click here.
For more information, contact Lucas Cabral, Communications and Outreach Coordinator, at 519-661-3181 or lcabral3@uwo.ca.
David Rokeby: Very Nervous System | Maurice Stubbs: Primary Forces
March 19 - May 9, 2015
David Rokeby: Very Nervous System
March 19 to May 9, 2015
Organized and circulated by Carleton University Art Gallery
Curated by Jesse Stewart
Starting March 19th, his project Very Nervous System (1986-2004) will be on view. Curated by Jesse Stewart, this piece is a landmark interactive sound installation that has no visual component. Instead, it uses video surveillance technology, synthesizers, a sound system, computers, and image-processing software to translate movement into music and/or sound. The gallery will appear to be empty, but when visitors pass through it, their movements will be converted into sounds that are played back to them through speakers. Visitors can "sculpt" the sound through a dynamic process of experimentation, improvisation and play. Rokeby has called the installation a "transforming mirror" that reflects and refracts our actions in space and time as well as our embodied sense of self. David Rokeby is an internationally renowned artist and Governor General's award-winner based in Toronto. His work has been performed and exhibited across Canada, the United States, Europe and Asia, including The National Gallery of Canada, the Whitney Museum in New York, and the Venice Biennale of Art. Please join us to hear David Rokeby speak about his engaging practice as part of the Art Now! Speakers' Series on Thursday, March 19th at 7P.M. at North Campus Building in room 113 followed by the exhibition's opening reception at McIntosh Gallery. An essay on David Rokeby's Very Nervous System (1986-2004) by McIntosh Gallery interns Stephanie Anderson and Margherita Papadatos can be found here.
Primary Forces
Curated by Catherine Elliot Shaw
March 19 to May 9, 2015
A native of Western Australia, London artist Maurice Stubbs has been engaged in an art practice spanning seven decades. Like Cézanne, he chooses to work directly from nature to capture the transient qualities of movement and light in the Canadian landscape. In luminous, abstract washes or swaths of strong, rich colour, his paintings invite the viewer to explore and question the ordering of visual experience through memory and intuition. Complementing this exhibition is a book that situates the artist's paintings within the context of the development of modernism and post-modernism in Australian and Canadian art. An interview between McIntosh Gallery interns Grace Bedwell and Kimberly Barton is available here.
For more information, contact Lucas Cabral, Communications and Outreach Coordinator, at 519-661-3181 or lcabral3@uwo.ca.
Janice Gurney: All the spaces
Curated by Julian Haladyn May 14th to June 27th, 2015
Since 2005 Toronto artist Janice Gurney has produced a series of paintings based on the sixteen translations of The Meditations of Marcus Aurelius that have been published since 1634. With every translation acquired for her personal library, Gurney would undertake another painting in the series. Instead of focusing on the nuances of the translator's words, as one might expect, Gurney looks at the differences in punctuation. Red commas, dashes and periods float on a dark blue ground. Gurney then photographed them displayed in various galleries and faculty offices, extending the project further. Curated by Julian Jason Haladyn, Janice Gurney: All the Spaces is accompanied by an eponymous book with essays by Miriam Jordan and Jeanne Randolph.
Janice Gurney completed her BFA from the University of Manitoba in 1973. She has lived in Toronto since 1977. In 2007 Gurney completed a Masters of Visual Studies degree (with a collaborative degree in Book History and Print Culture) at University of Toronto and received a doctorate in Art and Visual Culture from Western University in 2012.
Based on the dates of translation Janice Gurney has selected works from the collection by contemporary artists for inclusion in the exhibition. Artists selected include Eric Atkinson, Ron Benner, Ivan Eyre, Jean Hay, Les Levine, Patrick Mahon, David Merritt, and Jennie White. A display at D. B. Weldon Library composed of artifacts and objects associated with The Meditations of Marcus Aurelius and Janice's translations compliments the exhibition.
Gurney's work is in many collections, including the National Gallery of Canada, Art Gallery of Ontario, Winnipeg Art Gallery, Museum London, McIntosh Gallery, Mendel Art Gallery, and the Robert McLaughlin Art Gallery.
For more information, contact Lucas Cabral, Communications and Outreach Coordinator, at 519-661-3181 or lcabral3@uwo.ca.









Jewels in the Crown: The Alumni Association Collection
Curated by Catherine Elliot Shaw
September 17 to October 24
Opening reception presented with Londonfuse: September 17 at 6PM
In the late 1960s Western's Alumni Association formed an art committee to purchase works of contemporary art for a new campus collection. Using funds generously donated by supporters from the London art community, and assisted by Western artist-in-residence Gerald Trottier and Clare Bice, curator of the London Public Library and Art Museum, committee members, including Martin Robinson, J. H. "Jake" Moore, Ross Woodman, and Eddie Escaf, visited commercial galleries and artist studios in London, Toronto, Montreal and New York. In just four years, they acquired 18 key works of art by outstanding Canadian and international artists including Jack Chambers, Greg Curnoe, E.J. Hughes, Ron Martin, Clark McDougall, Michael Snow and Tony Urquhart. Initially, the art was displayed in the recently built Alumni Hall, but with concerns about security and conservation, it was transferred to McIntosh Gallery for safekeeping.  
Organized in collaboration with the Alumni Association, this exhibition celebrates the artists and the Art Committee members who had the foresight and vision to leave these works as a legacy for future generations of Londoners and the campus community to enjoy and appreciate. In recognition of their remarkable achievement, five paintings from the exhibition by the following artists will be reproduced as greeting cards. They will be sold in sets with the proceeds used to purchase a new work of art for the McIntosh Alumni Association Art Collection. The cards, which are printed in Canada, will be available at McIntosh Gallery during the exhibition, and also at The Book Store at Western, Oxford Books, DNA Artspace and online through Brown and Dickson.
Join us for a free curator-led tour on Friday, September 25 at 12PM.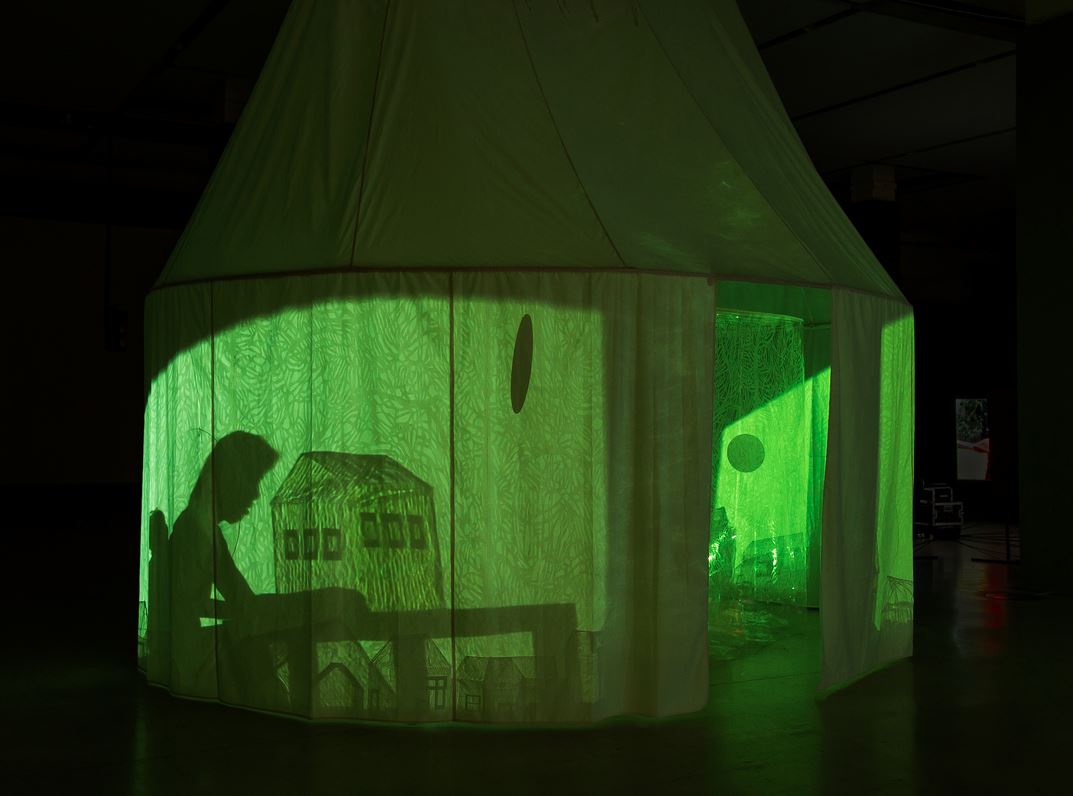 Ed Pien: Luminous Shadows
November 5 to December 12, 2015
Opening reception | November 5 at 7:30 P.M.
Curated by Catherine Elliot Shaw
Ed Pien is a multidisciplinary artist based in Toronto. He holds a Master of Fine Arts degree from York University and a Bachelor of Fine Arts degree from Western University. Pien has exhibited across Canada and internationally in Germany, Mexico, the United Kingdom, China, France, Russia, Italy, Spain, Australia, and the United States including Oh Canada: Contemporary Art from North North America, the largest survey of contemporary Canadian art ever produced outside Canada.
Ed Pien: Luminous Shadows presents two separate installations, Imaginary Dwelling  and Spectral Drawings.  First created for the Moscow Biennale in 2013 and inspired by the Inuit artist Shuvinai Ashoona, Imaginary Dwelling  features a large-scale tent in which two video projections and suspended mirror disks cast moving shadows on the tent walls.  Inside is a small townscape made of folded mylar which reflects both the video images and visitors' own shadows.  For millennia, the tent has been a protective haven and intimate social space for travelers including the nomadic Inuit who now live in communities of prefabricated houses.  The work contemplates memory, loss and hope for a better future.
Spectral Drawings is an ongoing series in which ghostly and ethereal figures rendered with white ink emerge from a deep black background. As their fragile outlines appear and fuse, the creatures seem to float and turn in an unhurried dance the moment before they will disappear again.
For more information, contact Lucas Cabral, Communications and Outreach Coordinator, at 519-661-3181 or lcabral3@uwo.ca.