2012 Exhibitions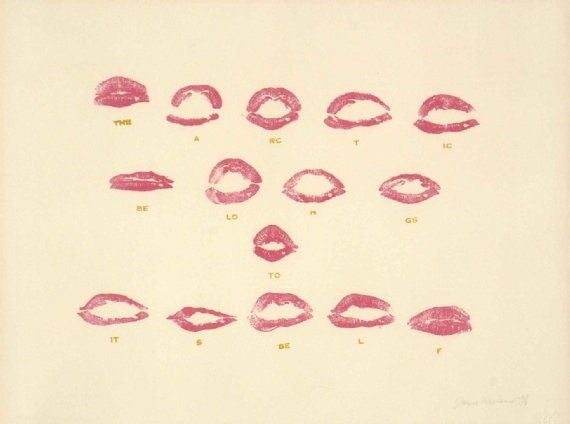 Joyce Wieland (1931-1998)
The Arctic Belongs to itself 1974
, litho, McIntosh Collection, Gift of Mrs. G.C. Chapman, 1990
WHEN: April 11 to Dec. 14, 2012
WHERE: University College (second floor)
Negotiation within the Frame: textual and pictorial connections in art presents works of art that combine text and image. The topic is particularly relevant today, given the array of visual material that combine text and images encountered in daily life. Typically found in advertisements, such image text combinations also appear regularly in the context of social media, for example, with Facebook "memes". Selected from McIntosh Gallery's collection, the works in the exhibition depart from the sort of bombardment typically associated with advertising to reveal ways in which combining texts and images can result in more subtle associations that create unexpected tensions, oscillations and harmonies.
Negotiation within the Frame is organized by McIntosh Gallery. It includes work by Margot Ariss, Ron Benner, Robert Frank, Pierre Raymond Gaudard, Arthur Handy, Antje Laidler, Ian MacEachern, Paddy Gunn O'Brien, Aidan Urquhart and Joyce Wieland. It is curated by McIntosh interns Samantha Angove and Stefani Klaric, who are Visual Arts Department graduate students at Western University.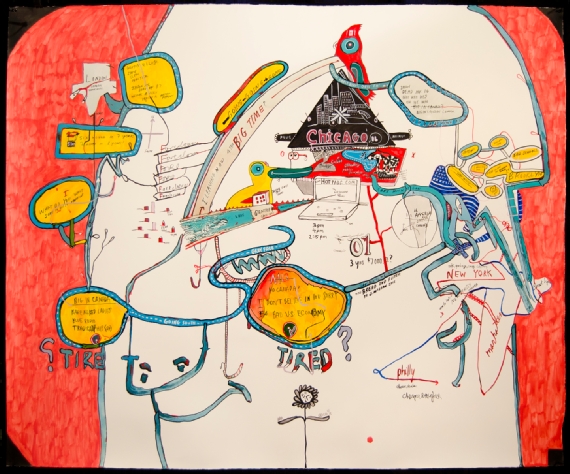 Jason McLean,
It all comes down to bread and butter
, 2012. photograh: Brian Lambert, courtesy of McIntosh Gallery
WHEN: Sept. 27 to Nov. 3, 2012
WHERE: West Gallery
Jason McLean: if you could read my mind includes 57 works completed since the artist returned to London, Ontario after living in Vancouver and Toronto and traveling extensively in North America and Europe. These drawings, paintings and sculptures form an idiosyncratic visual record of his experiences and perceptions, which, as the artist puts it, act as "a rhizomatic diary that pictorially represents my relationship with local environments." McLean's chronic mapping captures, with dazzling vertigo, his restless movements through an ever-changing terrain of cultural and social relations. Everything from fragments of popular culture to quotidian experiences appears in these immersive works. The exhibition catalogue includes essays by David Liss, Sarah Milroy and Christine Walde. This exhibition commemorates the 100th anniversary of H. B. Beal Secondary School, where McLean studied art prior to attending the Emily Carr Institute of Art and Design. Many distinguished Canadian artists have graduated from the Bealart program, including Greg Curnoe, Robert Fones, Wyn Geleynse, Jamelie Hassan, Ed Pien and film director Paul Haggis, who won Best Picture and Best Original Screenplay Academy Awards in 2004 for Crash.
Since leaving Beal, McLean has exhibited often, including projects at the Vancouver Art Gallery, Museum of Contemporary Canadian Art, Toronto, Richard Heller Gallery, Los Angeles, and ABEL Neue Kunst, Berlin. He is represented by Jessica Bradley Gallery, Toronto and Allegra LaViola Gallery, New York. His work is in the collections of the National Gallery of Canada and the Museum of Modern Art, New York.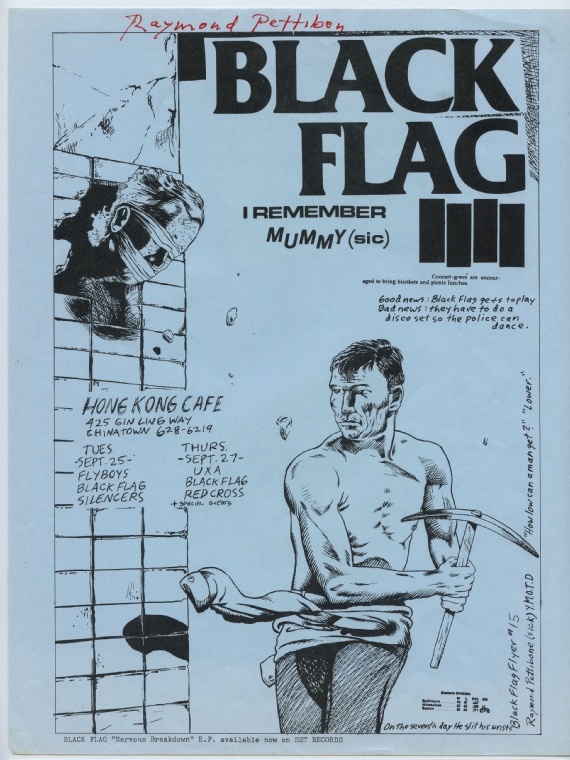 Raymond Pettibon,
Black Flag/ Hong Kong Cafe/ Tues. Sept. 25/ Thurs. Sept. 27, Blue Paper (1979)
, black on blue paper, 27.9 x 17.8 cm, courtesyIndependent Curators International (ICI), New York.
WHEN: Sept. 27 to Nov. 3, 2012
WHERE: East Gallery
Raymond Pettibon: The Punk Years, 1978-86 taps into the steady stream of this California artist's early graphic arts production, before he appeared on the contemporary art stage. Curated by Specific Object's David Platzker, this exhibition includes almost 200 examples of Pettibon's powerful designs made between 1978 and 1986, when he was immersed in the Los Angeles punk rock scene, doing the graphic design for Black Flag and other punk bands such as the Circle Jerks, Dead Kennedys, Go-Go's, Hüsker Dü, Meat Puppets, Minutemen, Ramones, Subhumans, Throbbing Gristle and Wasted Youth.
While Pettibon remains a cult figure among underground music devotees for these early designs, over the past twenty years he has acquired an international reputation as one of the foremost contemporary American artists working with drawing, text and artist's books. Crossing back and forth between music and the visual arts, this selection of zines, fliers, posters, stickers and album covers show Pettibon's raw imagery, heavily-shadowed technique, and characteristic visual punch.
Raymond Pettibon: The Punk Years, 1978-86 is circulated by Independent Curators International (ICI), New York, and has been made possible, in part, by a grant from the Horace W. Goldsmith Foundation; the Andy Warhol Foundation for the Visual Arts; the ICI Board of Trustees, and ICI Benefactors Barbara and John Robinson.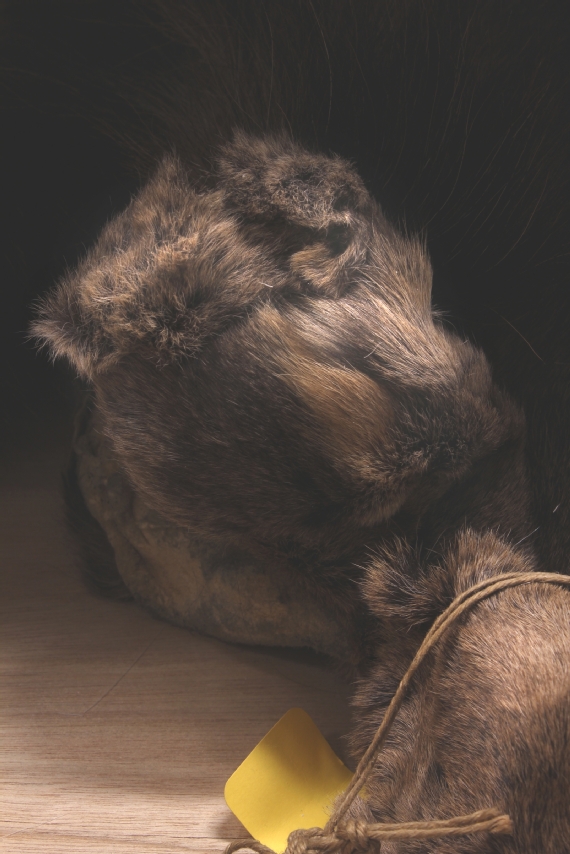 Brad Isaacs
untitled (yellow tag)
2011, digital pigment print, 43.0 x 28.0 cm, courtesy of the artist.
WHEN: Aug. 16 to Sept. 22, 2012
For the past two years, Brad Isaacs has photographed animal hides and dioramas at various natural history museums in North America, including the Royal Ontario Museum, the Canadian Museum of Nature, the Field Museum of Natural History and the American Museum of Natural History. Hiding Place consists of digital photographs of these research collections along with an array of complementary images that reveal much about human/animal relationships, especially hunting, the natural sciences and the construction of masculinity. His photographs and videos examine the way that technologies used to look at nature alter our understanding and interpretation of it. The relationship between photography and taxidermy is currently his primary focus. He is interested in how they both reduce nature to an image, and how such images alter our understanding of nature.
Collectively, the works point to the underlying ideologies that inform scientific animal research, while opening up the possibility for other ways of approaching the often fraught relationship between humans and animals.
Brad Isaacs holds a BFA from McMaster University and is currently a master of fine arts candidate within the Department of Visual Arts, Western University. He has exhibited extensively in southern Ontario, with previous exhibitions at Hamilton Artist Inc. and the Print Studio in Hamilton, ArtLab Gallery, Department of Visual Arts at Western University in London, and the Art Gallery of Peel in Brampton. Isaacs has also curated projects for the Grimsby Art Gallery and the Burlington Art Centre.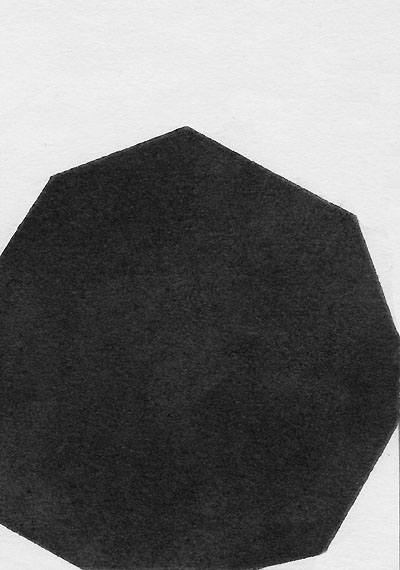 Liza Eurich,
Section_Octagon (2012)
Graphite on paper, 4 x 4.5 inches on 9 x 12 inches, courtesy of the artist.
WHEN: Aug. 16 to Sept. 22, 2012
WHERE: East Gallery
Liza Eurich's art practice is rooted in the slowness of studio production. Her experimentation with an array of materials has led to unexpected and divergent directions in her recent work. For Eurich, it is not pre-conceived ideas that lead to anticipated results. Instead, it is the process itself that leads to new and unexpected concepts. Such an approach contrasts with the linear and goal-oriented production prevalent in much of today's cultural activity.
Eurich carefully positions each of her subtle drawings and sculptures in relation to one another within the gallery. The unassuming nature of these works, combined with the constellational structure of their arrangement, make them resistant to immediate and direct interpretation, thus inviting the viewer to discover new possibilities and connections among the works themselves and beyond the exhibition.
Liza Eurich holds a BFA from Emily Carr University, Vancouver and is currently a master of fine arts candidate within the Department of Visual Arts at Western University. She has exhibited at ArtLab and Parker Branch in London, Ontario and the Museum of Contemporary Art and MKG127 in Toronto. Earlier this year, her work was included inLIKE-MINDED, a group exhibition curated by Micah Lexier for Plug-In ICA in Winnipeg. Eurich recently completed a residency with Silke Otto-Knapp and Jan Verwoert at the Banff Centre.
THE WORK OF IT, her MFA thesis exhibition, has been organized by the Department of Visual Arts and McIntosh Gallery. For more information, contact James Patten at jpatten2@uwo.ca or (519) 661-2111 ext. 84602.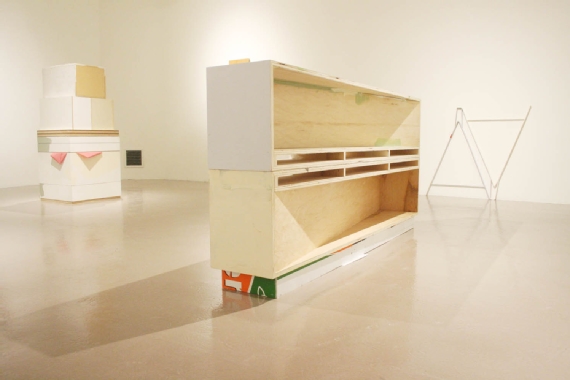 Installation view, including left to right:
Private Function (2008-2010); Bad Actors (2012); The Lexicon (2012)
. Image courtesy of Kevin Rodgers.
WHEN: July 19 to Aug. 11, 2012
Kevin Rodgers' exhibition OUT OF ORDER includes sculptures and drawings made from commercial signs, modified furniture and fragments of philosophical texts. With this new body of work, Rodgers explores the abstraction of politics and representation. While much of the exhibition indirectly refers to political and cultural events of the past 40 years, the artist questions conventional notions of chronological time. In this sense the exhibition can be seen as "untimely", where things are both no longer of the past and not yet of the future, and are thus "out of order".
This project is the culmination of the artist's doctoral research at Western's Department of Visual. A publication designed by the artist accompanies the exhibition. It includes a text by Toronto-based writer and curator Rosemary Heather.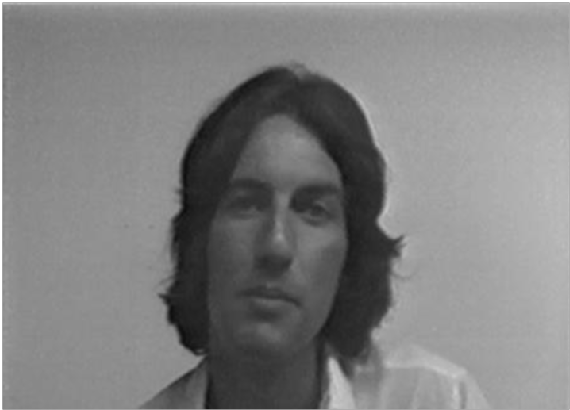 Colin Campbell,
True/False
(film still) 1972, image courtesy of the Vtape.
WHEN: July 19 to Aug. 11, 2012

Curated by Matthew Ryan Smith
The longstanding tradition of self portraiture is undoubtedly the most familiar type of autobiographical work by visual artists. From Rembrandt to Lucian Freud, painters have taken advantage of the unique opportunity for psychological introspection provided by the most sympathetic and patient of sitters. With the advent of photography in the 19thcentury, which liberated portraiture and, indeed, painting generally from its historical obligation to depict reality, artists began to explore new ways of approaching the self as subject matter.
With the exhibition Some Things Last a Long Time, curator Matthew Ryan Smith takes on the challenging task of looking at the ways in which various contemporary Canadian artists have approached autobiographical themes in a variety of media over the past 40 years. Since the 1970s, artists Barbara Astman, Colin Campbell and Suzy Lake have been widely recognized for their thought-provoking self explorations. Using the lens-based practices of photography and video, their landmark work transcended the personal to inform and reflect on broader contemporary social issues including feminism, gender, and the individual's adaptation within the increasingly mediated society of the period. Including recent work by Toronto-based Peter Kingstone and Moncton-based Jaret Belliveau in the exhibition demonstrates the sustained interest in personal narrative among a younger generation.
Mr. Smith, a PhD candidate in the Department of Visual Arts, has worked on this exhibition for the past two years. His astute selection of works cogently illuminates his concept of "relational viewing," as a process through which our private lives and memory determine our response to works of art. A catalogue, published by McIntosh Gallery and Western's Department of Visual Arts, is available.
Robert Waters,
Dividual
, 2012, silkscreen on paper. Photo courtesy of the artist.
WHEN: May 4 to June 16, 2012
Presented in conjunction with the conference Intensities and Lines of Flight: Deleuze, Guattari and the Arts, this exhibition, which continues until June 16, brings together an array of contemporary art that has an affinity with Deleuzo-Guattarian philosophical concepts. Exhibiting artists Marc Bell, James Kirkpatrick, David Merritt and Kim Moodie, though not directly influenced by Gilles Deleuze and Félix Guattari, explore themes and concepts that complement their philosophy, including rhizomatic systems in the work of Kirkpatrick, Merritt and Moodie, and assemblage in Bell's collages. The remaining artists—Giles Whitaker, Jennie White and Robert Waters— refer directly to D+G in their work.
Waters, who lives in Spain, collaborated with two academics presenting at the conference, Renée Jackson and Suzanne McCullagh, to develop the installation Organ Eyes Peer Amid specifically for the exhibition. Waters, Jackson and McCullagh will be in residence at McIntosh Gallery to assemble this large, multi-media installation from April 26 until the conference begins on May 4. The public is invited to visit the artists during the residency.
London artist Jennie White also presents new work. Her three sculptures have evolved over the past six months as she incorporated ideas based on her research into D+G. Like Bell, her work is an assemblage of found materials that form rhizomatic connections to a broad range of cultural and social references. New Zealand artist Giles Whitaker, a visual arts graduate student at Western, is represented by netLines, an interactive computer-based installation. Visitors use a mouse to provoke a cascade of unexpected behaviours among the 10,000 interconnected lines projected onto a gallery wall. WithnetLines, Whitaker explores Deleuze's affect theory as a way of understanding spheres of experience beyond the dominant paradigms of representation, including our interaction with real and virtual worlds.
Organized by McIntosh Gallery and the Centre for Advanced Research in European Philosophy, King's University College, the conference and exhibition kicks off on May 4 with a keynote address by National Gallery of Canada curator of contemporary art Josée Drouin Brisebois followed by the exhibition's opening reception. The Intensities and Lines of Flight: Deleuze and Guattari and the Arts conference is held from May 4 to May 6, 2012.
Public Events
Friday, May 4, 5:00 PM
Keynote address: Josée Drouin Brisebois, Curator of Contemporary Art, National Gallery of Canada, Conron Hall, University College, Western University
Friday, May 4, 7:00 PM
Lines of Flight reception, McIntosh Gallery. Join Josée Drouin Brisebois, exhibiting artists and conference delegates to open the exhibition and conference. Hors d'oeuvre and aperitifs served.
Sunday, May 6, 11:00 AM
Intensities and Lines of Flight exhibition tour, McIntosh Gallery

WHEN: March 1 to April 14, 2012
Curated by James Patten
Originally from Lahore, Toronto-based artist Amin Rehman explores neo-colonialism and the way in which language is used to further political and militaristic goals. Alternating between the traditional medium of encaustic and digitally-generated vinyl and neon signs, Rehman uses short, quixotic texts to evoke both current global realities and his own experience living in Pakistan and Canada. He often quotes more than one source in the same work. Cultural meaning is further embedded within the layers of typographically distinctive fonts. The resulting works underline the nuance and intransigence of conflicting ideological positions. With an ironic approach to neo-colonialism, Rehman offers a trenchant commentary on the economic disparities and inflammatory ideological statements global capitalism provokes internationally.Rehman takes aim specifically at the complex absurdities of the fraught relationship between the United States, Afghanistan and Pakistan. His satirical works, emblazoned with statements devoted to political change often through violent means, were recently exhibited in Islamabad and Lahore. Amin Rehman: A is for… includes 46 new works that challenge the viewer to decipher fragmentary text enmeshed within the lamentable histories of imperial power.
The forthcoming exhibition catalogue includes an interview with artist Jamelie Hassan, and essays by exhibition curator James Patten and the internationally acclaimed British Pakistani writer and activist Tariq Ali.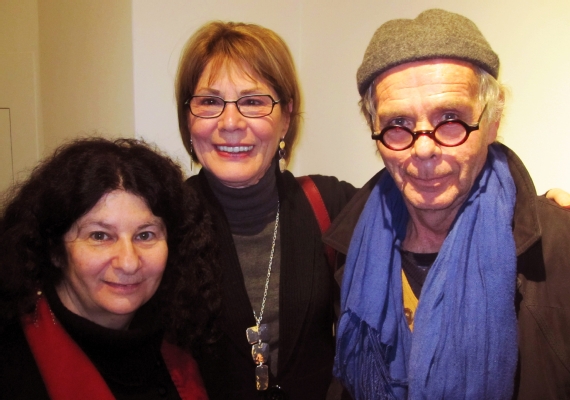 Jamelie Hassan, Suzy Lake and Ron Benner at opening reception, photo: Ruth Strebe.
WHEN: Jan. 5 to Feb. 18, 2012
Curated by Matthew Brower and Carla Garnet
Suzy Lake's approach to art making over the past 40 years has been both rigorous and challenging. A pioneer of body-based work, Lake examines, both politically and aesthetically, the experience of gendered embodiment. In the 1970s Lake began using her own body and life as the subject of her work. From series such as On Stage (1972-75), Choreographed Puppets (1976) and Impositions (1977) through to Peonies and the Lido (2002) and Extended Breathing (2008-present) she has photographed herself in staged situations often using costumes, props and actions to examine models of femininity. In so doing, she broke ground for other artists including Cindy Sherman.
Lake's photo-based and performative explorations of the body, femininity, and beauty offer a powerful and nuanced investigation into the experience and expression of female identities within the context of contemporary political, social and media environments. Lake's practice of performing for her own camera results in a complex body of work that politically and aesthetically engages with herself as both the subject and the object of vision. Through her image doubles, Lake opened up the fraught relations between image and identity that have become a central concern of contemporary art practices.
Suzy Lake: Political Poetics has been organized by the University of Toronto Art Centre and the Scotiabank Contact Photography Festival. The accompanying catalogue, produced with the generous support of Partners in Art, includes essays by curators Carla Garnet and Matt Brower and cultural theorist Dot Tuer. It is available at McIntosh Gallery for $30.