2019
Glimmers of the Radiant Real
Katie Bethune-Leamen, Broadbent Sisters, Daniel Griffin Hunt, Sanaz Mazinani, Sandy Plotnikoff, Mary Pratt, Cole Swanson, Catherine Telford-Keogh, Xiaojing Yan
Organized and circulated by The Robert McLaughlin Gallery, in collaboration with the Art Gallery of Peterborough and McIntosh Gallery. Curated by Ruth Jones and Sam Mogelonsky  
January 20 – March 16, 2019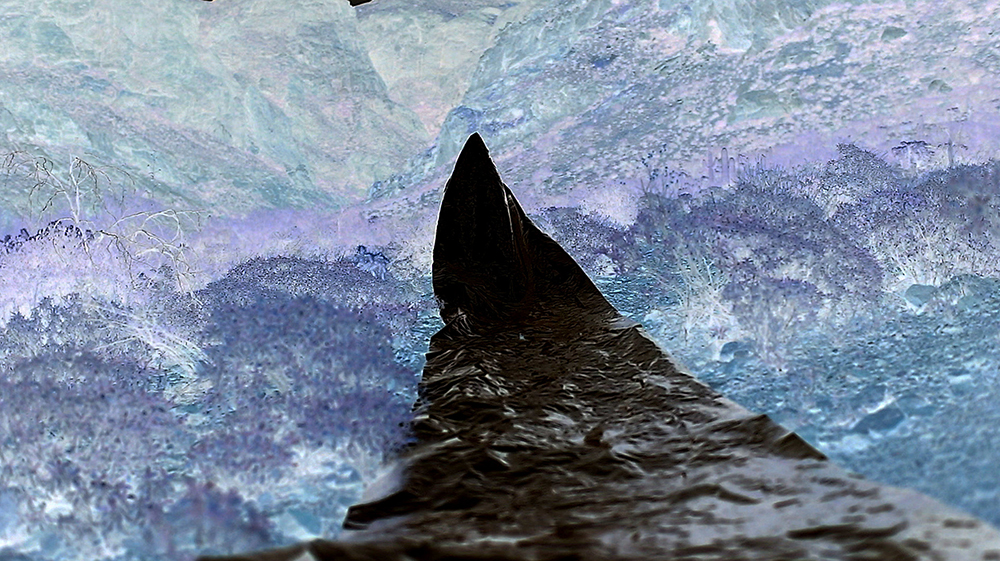 Image: Broadbent Sisters,
Midnight Forms
, short film, 2017. Courtesy of the artists.
Opening Reception and Performance by Daniel Griffin Hunt:
Sunday, January 20, 2-4 PM
What happens when surfaces glitter, gleam, sparkle, and shine? In
Glimmers of the Radiant Real,
radiance, that quality of projected light we associate so often with the marvellous and the modern, is subverted by the relationship between the quality of a surface and what it covers, reflects, or contains. Surface is the point of contact for the body, its skin and texture and touch. The glistening, shining surfaces of works by Katie Bethune-Leamen, the Broadbent Sisters, Daniel Griffin Hunt, Sanaz Mazinani, Sandy Plotnikoff, Mary Pratt, Cole Swanson, Catherine Telford-Keogh, and Xiaojing Yan manipulate the viewer's perception of dimension through reflections and refractions, thereby un-forming the object and making the familiar strange.
The artists and works featured in the exhibition use a variety of materials to generate these surface effects, from glass to gold, foil, plastic, and pearls. Each material has its own qualities of shine and reflection, and each combination of qualities reacts with a work's source and subject to yield a different effect: gilded insect wings sketch a house's morbid geography, material treatments upend expectations of form and colour, and dollar-store detritus, sunk in resin, seems to glow behind glass. For the viewer, the result is a combination of material familiarity and perceptual distortion.
In video, sculpture, painting, drawing, and installation, these works invite us to transform as they do, through interactions with surfaces that dazzle, using light to obscure or fracture the images and clarity we expect. They answer a craving for radiance, a desire to be like them, shining and seemingly limitless. They offer the promise of the object made new, but even if they speak in the same material language of the glittering and the precious, the modern, and the transcendent, they speak its opposite, too, a language of obscurity and disappearance, complicating the shining and ideal. They layer the surface substances that gloss the world we know, offering glimmers of a radiant reality where light becomes, not truth illuminated, but something else.
For more information about the artists, events and the exhibition's tour, please visit the
exhibition website
and follow the exhibition on Instagram
@radiantreal
.
For more information about McIntosh Gallery and its iteration of
Glimmers of the Radiant Real
, contact Abby Vincent, Communications and Outreach Coordinator,
avince5@uwo.ca
, 519.661.2111 ext. 87576
Image: Skawennati,
Celestial Tree: She Falls for Ages
, 2017. Courtesy of the artist.
In
From SkyWorld to Cyberspace
, artist Skawennati (Mohawk, turtle clan) traces a line from our place of origin somewhere in the heavens to the virtual realm, one of the newest territories on Earth. Investigating concepts of time and self, Skawennati engages various mechanisms of gaming and play, interweaving traditional Mohawk stories and ritual objects with new technologies and processes through representations of avatars, most notably her online persona, which she has maintained for over a decade in the virtual world, Second Life.
From SkyWorld to Cyberspace
is a result of Skawennati's continuing investigation of cultural construction, contemporary Indigenous self-representation in cyberspace, and of our relationships with the digital world.
About the artist:
Skawennati makes art that addresses history, the future, and change from an Indigenous perspective. Her innovative new media projects include the online gallery/chat-space, and mixed-reality event,
CyberPowWow
(1997-2004); a paper doll/time-travel journal, Imagining Indians in the 25th Century (2001); and
TimeTraveller™
(2008-2013), a multi-platform project featuring nine machinima episodes. These works and others have been presented in New Zealand, Germany, Italy, Ireland and across North America in major exhibitions such as Now? Now! at the Biennale of the Americas and Looking Forward (L'Avenir) at the Montreal Biennale. Skawennati is represented by ELLEPHANT and her award-winning work is included in both public and private collections. Born in Kahnawà:ke Mohawk Territory, Skawennati holds a BFA from Concordia University in Montreal, where she is based. Currently, she is Co-Director, with Jason E. Lewis, of Aboriginal Territories in Cyberspace (AbTeC), a research network of artists, academics, and technologists investigating, creating, and critiquing Indigenous virtual environments.
For more information contact Abby Vincent, Communications and Outreach Coordinator,
avince5@uwo.ca
, 519.661.2111 ext. 87576
---
We Are From Nicodemus
Deanna Bowen
Curated by The Family Camera Network
March 21 – April 27, 2019
Opening Reception: Thursday, March 21 at 8pm


Image: Deanna Bowen, We Are From Nicodemus, video still, 2017. Image courtesy of the artist.

In We Are From Nicodemus, Deanna Bowen traces threads of her family history as it relates to historical accounts of African American migration from the Midwest to the Canadian Prairies. The installation, first shown at the Royal Ontario Museum as part of The Family Camera exhibition (2017), explores intersections between photography and migration and recovers a history of struggle and emancipation. The video documents Bowen's first meeting with her cousin, Angela Bates, with whom she connected after finding a photograph of Angela's grandmother, Elizabeth Risby Williams, during her genealogical research. Through a series of interviews presented in eight episodes, she builds connections with extended family members, recovering stories of her family's migration from Nicodemus, Kansas to Campsie, Alberta in the early 1900s.

About the artist:
Deanna Bowen is an interdisciplinary artist based in Toronto. She is a descendant of African Americans who migrated from Kansas to Alberta, Canada, over one hundred years ago, and her research-based practice explores counter narratives of slavery and migration. Bowen holds a Master's Degree in Visual Studies from the University of Toronto (2008) and is a graduate of the Emily Carr College of Art and Design (1994). She is the recipient of numerous awards, including a Guggenheim Fellowship (2016) and the William H. Johnson Prize (2014). Her work has been exhibited and screened in Canada and internationally.

For more information contact Abby Vincent, Communications and Outreach Coordinator, avince5@uwo.ca, 519.661.2111 ext. 87576
ESSAYS:
Heads
Stephen Andrews, Sarah Cale, Colin Dorward, Lili Huston-Herterich, Patrick Howlett, Jay Isaac, Harold Klunder, Mack Ludlow, Katie Lyle, Vanessa Maltese, Kim Moodie, Kim Neudorf, Gordon Peterson, Adam Revington, Janet Werner
Curated by Sky Glabush
May 3 - June 16, 2019
Opening reception: Friday, May 3, 7:00-9:00p.m.
Curator-led tour: Thursday, May 9 at 12:00p.m.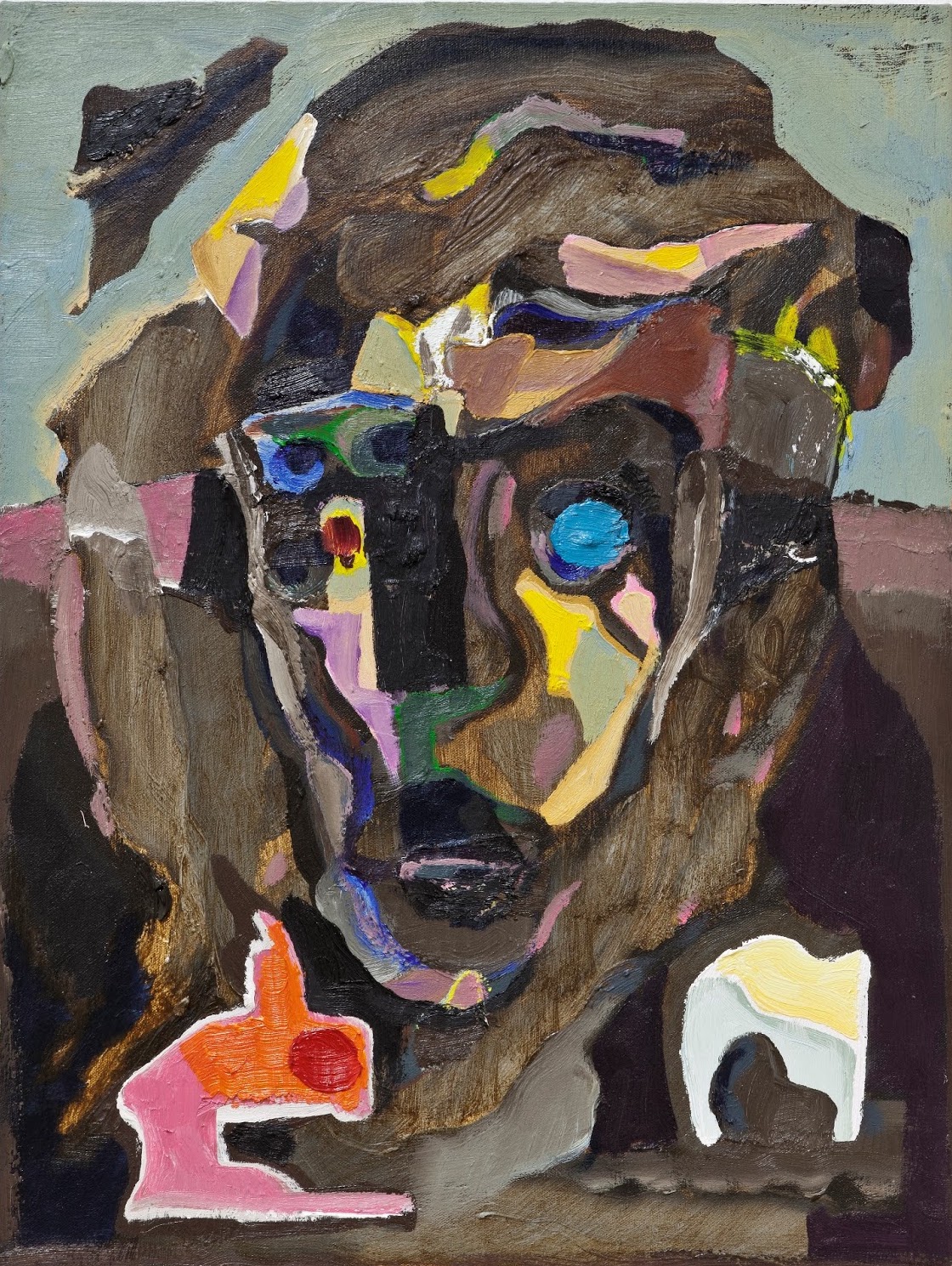 Image: Harold Klunder,
Hart Street (Self-Portrait)
, 2011. Oil on canvas. Courtesy of the artist and Clint Roenisch Gallery.
In an age where images are more ubiquitous than text, where pictures bombard the psyche in a fleeting, buzzing, ephemerally digitized omnipresence, the corporeality of art offers something else. It is viscous, bodily, physical. It holds the trace of the hand and the gesture is preserved and registered like a Paleolithic butterfly trapped forever in amber.
It is easy to fetishize the materiality of painting and sculpture, but here it is held in distinction to the selfie, the photo-shopped, the sterilized, branded commodity of popular media.
Heads
is an exhibition that revels in the distinctive language of the portrait as a place where the poetic potential of the mind is located centrally in the body, in the gut, in the hand, in the foot.
About the curator:
Born in 1970 in Alert Bay, British Columbia, Sky Glabush lives and works in London, Ontario, Canada where he teaches studio art at Western University. He holds a BFA from the University of Saskatchewan and an MFA from the University of Alberta. Recent exhibitions include
The Valley of Love
 at Clint Roenisch Gallery, Toronto,
The New Garden
at MKG127 in Toronto;
The Window is also a Door
at Prosjektrom Normanns, Stavanger Norway;
What is a Self?
at Oakville Galleries, Oakville Ontario; and
The Painting Project
at Galerie de l'UQUAM, Montreal, Quebec. Glabush's work is in many public collections including the Canada Council Art Bank, Bank of Montreal, Toronto Dominion Bank, Scotiabank, Royal Bank, Ivey Collection, McIntosh Gallery, Museum London, Mackenzie Art Gallery, Mendel Art Gallery, The Canadian Institute for Advanced Research, and The National Gallery of Canada.
---
Sanaugavut: Art from Kinngait
Curated by Nakasuk Alariaq
May 3 - June 16, 2019
Opening reception: Friday, May 3, 7:00-9:00p.m.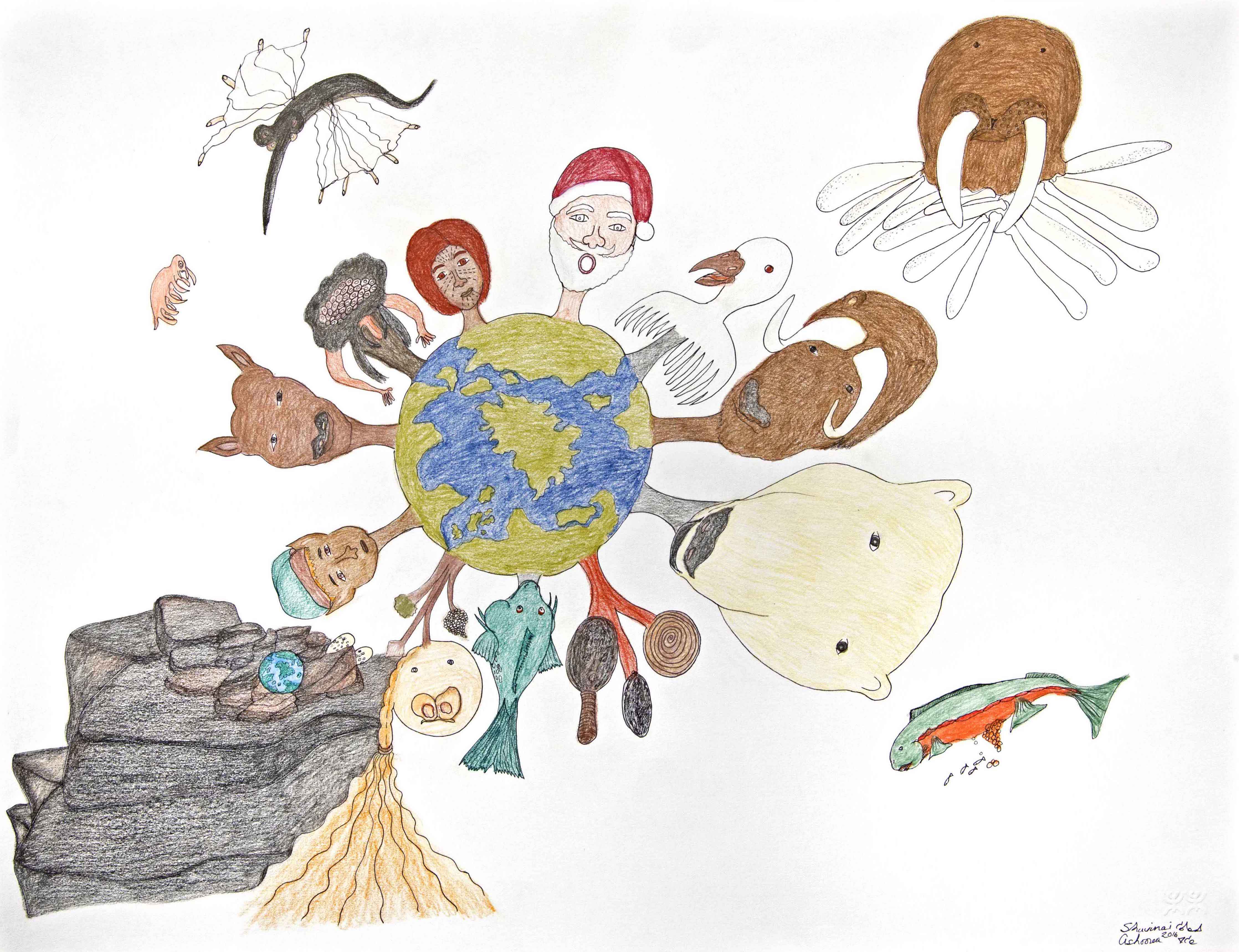 Image: Shuvinai Ashoona,
Untitled
, 2016. Coloured pencil and ink on paper. Collection of McIntosh Gallery, Western University, 2018.
Curatorial statement, Nakasuk Alariaq:
Sanaugavut: Art from Kinngait
marks McIntosh Gallery's first time inviting an Inuk graduate student to curate an exhibition, making it a very special occasion for supporters and advocates of indigenous self-representation on Western University's campus and in London and Canada more broadly. Having sifted through McIntosh Gallery's database, which includes 200 Inuit artworks from all across Northern Canada, I could see that their collection consists of a lot of drawing, sculpture, and print from the 1960s-1980s, which is awesome.
I chose to specifically focus on Kinngait, because Kinngait is my hometown. I thought it was important to highlight a number of different events and people who contributed to the development of the commercial market and who continue to support of the local market. The 1960s-80s was a time of experimentation in Kinngait's studios. Local co-ops such as Sananguabik and Tititurarvit ran many workshops that encouraged exploration of different mediums and styles of art, while continuing their own art forms, such as sewing and beading.
I have chosen to add textile and sculptural pieces from both my personal collection and my parents' collection, including the beaded
amauti
by Eliyah Mangitak and jewelry made by my uncle Tim Pitseolak as a way to highlight the work of several artists not typically recognized in the Kinngait art record. Similarly, I have included several artworks by my own grandparents, my namesake Nakasuk Alariaq and grandfather Adamie Alariaq, about whom there is very little written. This demonstrates how many amazing artists and key leaders' stories have been forgotten. Camp leader and shaman Kiakshuk and his son, Lukta – one of the first master stone cut printmakers in Kinngait during the late 1950s and 1960s – were influential in the development of Sananguabik.
Art, in an Inuk's perspective, not only consists of the subject and material from the traditional canon, such as drawing and printmaking, but also media such as seamstress-work, beading and techniques that academia previously classified as "craft". Sculpture and carving hold a special place for many Inuit men, as they were tasked with making the tools and equipment needed to survive in the Arctic. Many Inuit men had mastered carving stone and bone before any European set foot in the Arctic and encouraged them to carve stone, bone, and ivory for the art market.
The title of this exhibition,
Sanaugavut
, is the Inuktitut saying for "that which we have made", and I wanted to show the many different types of art forms that have emerged within my hometown of Kinngait (Cape Dorset), Nunavut. The opening reception will include a qulliq (oil lamp) lighting, and a moment of silence for a number of artists exhibited who passed away this last year, such as Annie Manning Lampron, Axangaju Shaa and Eliyah Mangitak, all well-respected elders from Kinngait who not only supported Kinngarmiut (people from Kinngait) but Inuit cultural preservation and revitalization. Their lives are missed but their stories and the love they shared with their family and friends will never be forgotten.
About the curator:
Nakasuk Alariaq is currently a Master of Art candidate at Western University. Her thesis focuses on her hometown of Kinngait (Sikusilak/Cape Dorset), Nunavut, and its role in the development of the commercialization of Inuit art.
Sanaugavut: Art from Kinngait
is the first exhibition she has curated. She holds a Bachelor of Arts Honours in Anthropology and a Minor in Art History and Criticism. Alariaq has been involved in the digitization of the Inuit art record under Anna Hudson at York University, along with the McMichael Canadian Art Collection in 2014 and 2015.
For more information about McIntosh Gallery and these exhibitions, contact Abby Vincent, Communications and Outreach Coordinator,
avince5@uwo.ca
, 519.661.2111 ext. 87576.
Philosophical Archeology Space 2009-2019
Ido Govrin
June 27 – July 26, 2019
Opening reception: Thursday, June 27, 5:00-7:00 p.m.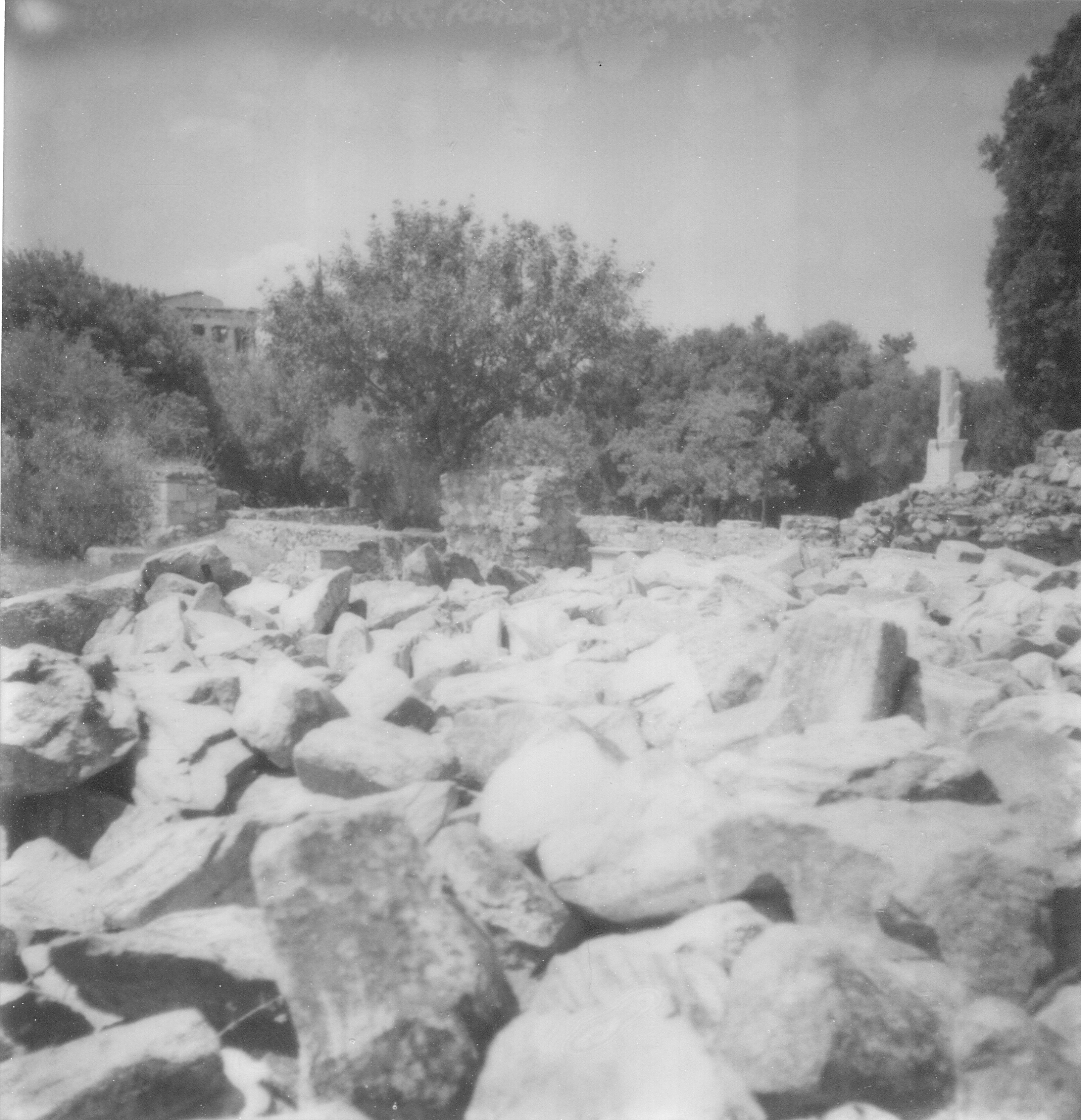 Image: Ido Govrin,
Philosophical Archeology Space 2009-2019
. Courtesy of the artist.
Philosophical Archeology Space 2009–2019
presents the culmination of the artist's decade-long research on philosophical archeology—a methodology that embodies one's relation to history and historiographic research.
Carried out as an artistic modus operandi, Govrin's project examines the archive and the index through a large-scale interdisciplinary installation divided into two parts.
The archive, containing Govrin's work from the previous decade is not fully accessible. A perforated metal door blocks physical entry to the space so that one can merely view and listen to what's inside: some of the works are boxed, some are fully exhibited, and others somewhere in between. The index comprises a series of photo-litho prints on Japanese Washi paper sheets. Incorporating collage work, sound, and ephemera, these works form constellations rendered and conceived by archeological art-making.
About the artist:
Ido Govrin (b. 1976, Jerusalem) is a multidisciplinary artist. He holds a BA in philosophy from Tel-Aviv University, an MFA from the University of Toronto and is currently a doctoral candidate in the Department of Visual Arts at Western University.
Philosophical Archeology Space 2009–2019
is his thesis exhibition.
---
Selections from the Peter Lamb Becher Collection
June 27 – July 26, 2019
Opening reception: Thursday, June 27, 5:00-7:00 p.m.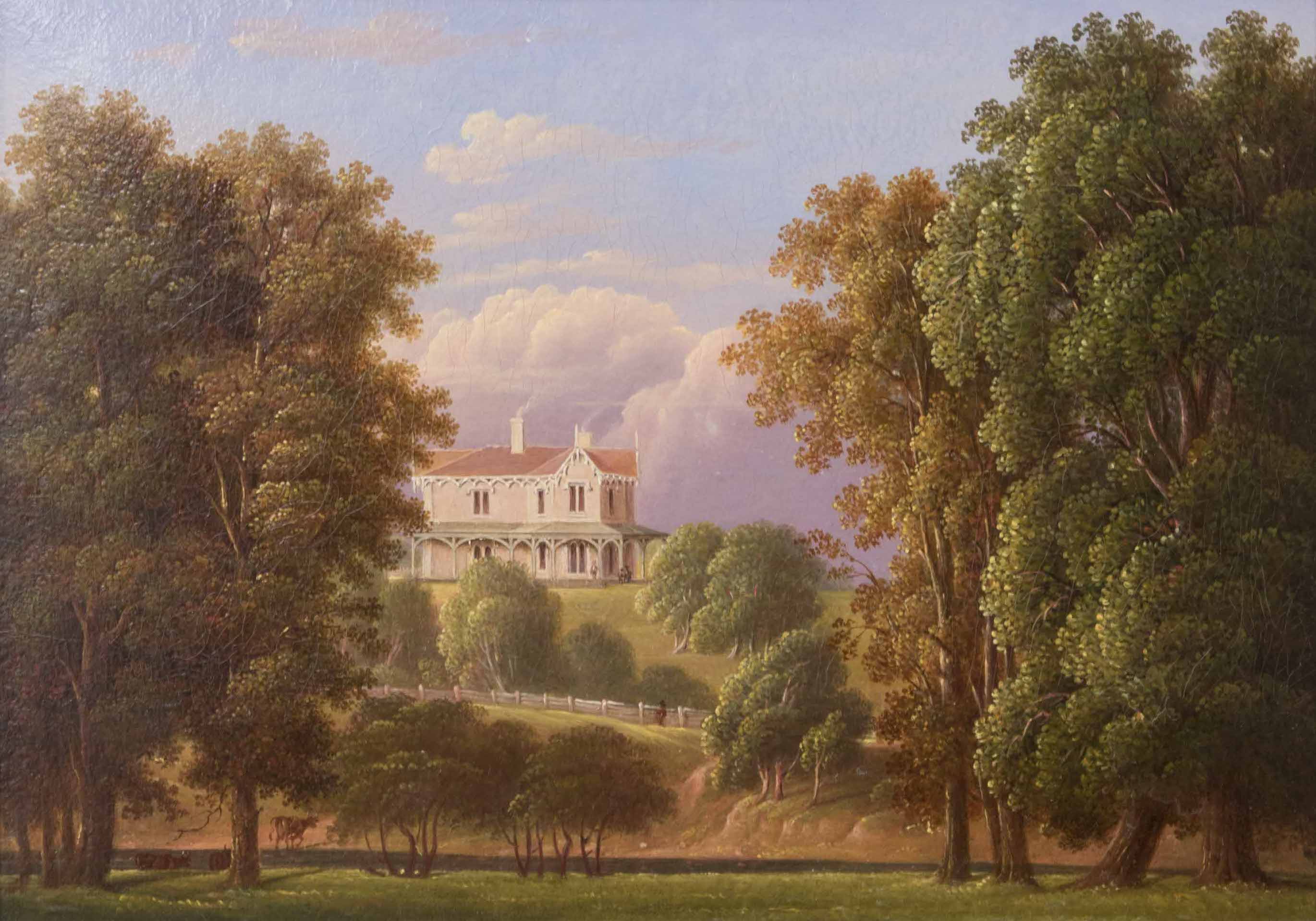 Image: James Hamilton (Canadian, 1810-1896),
Thornwood with Cattle on Becher's Island in Foreground. c. 1860.
McIntosh Gallery Collection, Gift of Peter Lamb Becher, 2018.
McIntosh Gallery is delighted to present a selection of works from the Peter Lamb Becher Collection, which was donated in 2018. The collection was started in the mid-19th century after the Bechers moved to London, Ontario in the 1830s. One of the original founding families, the Bechers were prominent in law, medicine, politics and the social life of the city.
Their house, Thornwood, at 329 St. George Street, was built in 1852. Several of the works in this exhibition were originally displayed at Thornwood, which is also the subject of two exquisite paintings from the 1860s by London artist and family friend James Hamilton.
Thornwood is a rare example of a 19th century estate house, designed in the contemporary Gothic Revival style. The picturesque approach, employed in the plan for Thornwood, proposed that buildings be deliberately placed in a natural and organic relationship to the untamed terrain. Looking down towards London, in close proximity to the edge of the bank of what was once the river, and what is now Gibbons Park, Thornwood offers impressive views and vistas to and from the property.
Thornwood was built by Henry C. R. Becher, a prominent lawyer and politician. He arrived in Canada from England in 1835. Thornwood received many distinguished guests over the years, including: Sir John A. Macdonald, Sir Robert Borden, Prince Edward the VII (the Prince of Wales), and Winston Churchill.
In addition to the historic works of art from Thornwood, the collection comprises other paintings, mainly by London artists, acquired after 1970 by Peter Becher.
The Becher collection provides a rare and intimate opportunity to see some of the earliest works depicting London within the context of a unique family collection developed over 180 years. Thanks to the vision, foresight and generosity of Peter Becher, this remarkable gift is now in the public domain at Western University along with the Becher Fonds held by Western Archives.
For more information about McIntosh Gallery and these exhibitions, contact Abby Vincent, Communications and Outreach Coordinator,
avince5@uwo.ca
, 519.661.2111 ext. 87576
Inventory
Lydia Santia
August 9 - September 7, 2019
Closing reception: Friday, September 6, 5:00-7:00p.m.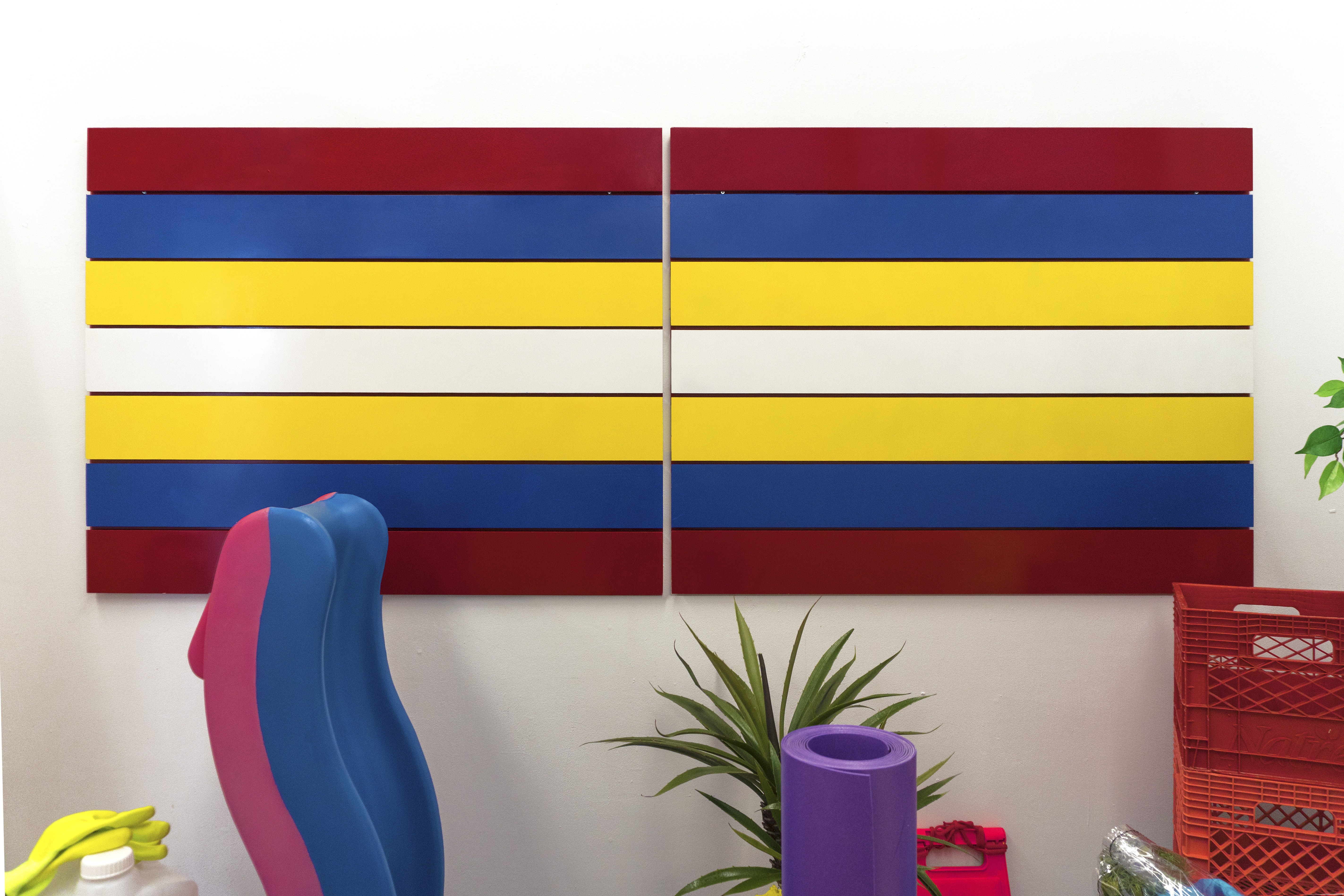 Image: Lydia Santia, Installation view of Fixture and other objects, 2019, spray paint, MDF, miscellanea. Courtesy of the artist.

Lydia Santia's Inventory bridges the gap between artistic and consumer collecting. The gallery is revealed as a storage space where objects are stripped of function, aestheticized, and placed in suspended animation until further notice.

An inventory is a collection of items, goods, and contents. Inventory sheds light on the human relationship with objects and the categorization of objects as inactive clutter.

About the artist:
Based in London, Ontario, Santia holds a BFA from McMaster University, and is currently an MFA candidate in the Department of Visual Arts at Western University. Inventory is her thesis exhibition.


---
Spanning
Kate Carder-Thompson
August 9 - September 7, 2019
Closing reception: Friday, September 6, 5:00-7:00p.m.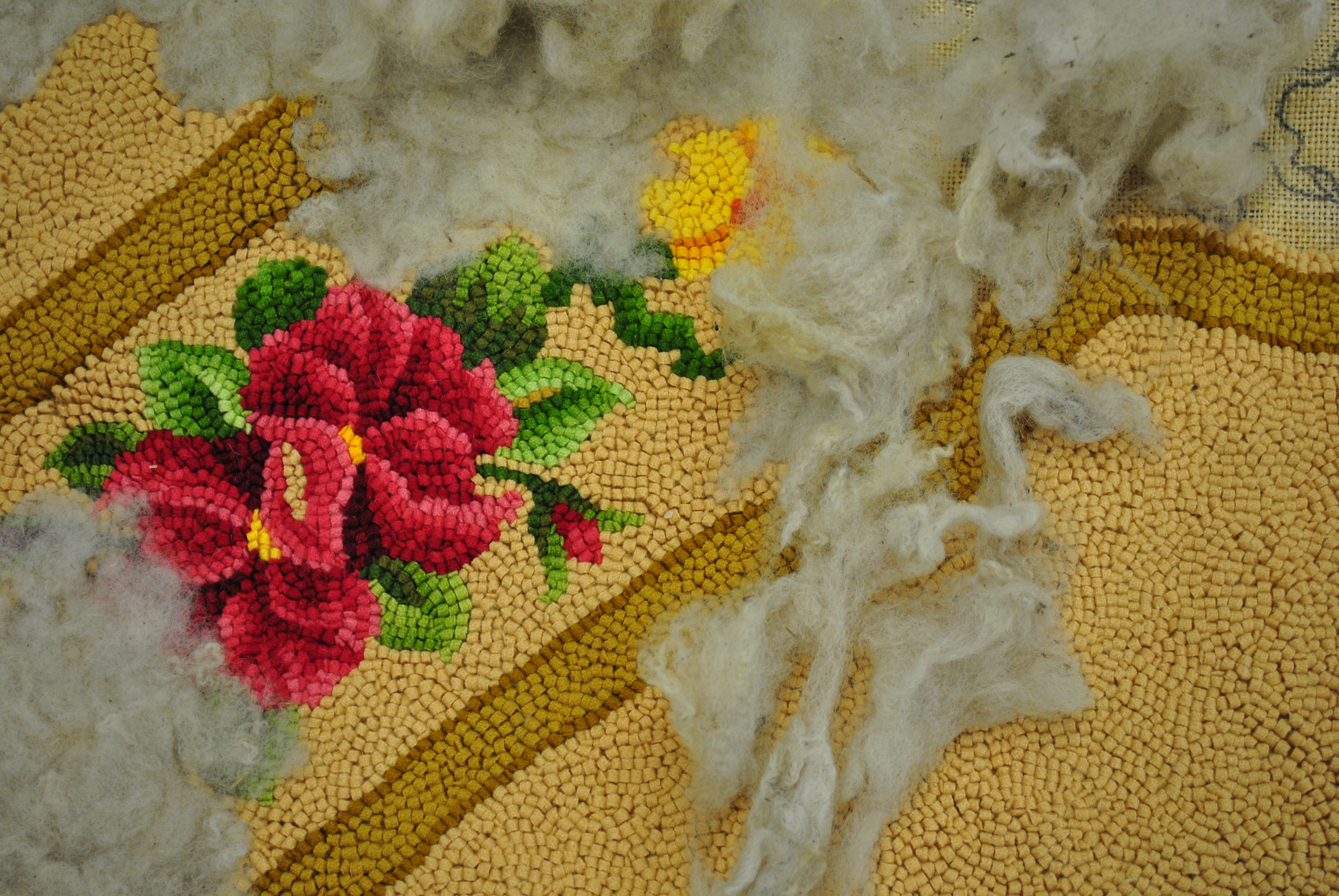 Image: Kate Carder-Thompson, Spanning (detail), 2019, wool and found rug hooking. Courtesy of the artist.

In Carder-Thompson's Spanning, traditional spinning wheels are modified as aides to facilitate spiritual communication. These altered technologies harness the potential to narrow the gap that separates the past from the future in an effort to speak across the veil.

Spanning provides access to persons long dead and those yet to be born, who are listening while we work.

About the artist:
Kate Carder-Thompson, based in Kitchener, Ontario, holds a Bachelor of Fine Art from Concordia University and a Bachelor of Education from the University of Toronto. She is currently an MFA candidate at Western University. Spanning is her thesis exhibition.

Graduate student exhibitions at McIntosh Gallery are presented in memory of King's College alumnus Gregory Franklin Child through the generous support of Western University Arts and Humanities alumni Paula Case Child and Timothy Child.

For more information about McIntosh Gallery and these exhibitions, contact Abby Vincent, Communications and Outreach Coordinator, avince5@uwo.ca, 519.661.2111 ext. 87576.
Anti-profit: Independent Publishing in London
Curated by Ruth Skinner
September 14 - October 26, 2019
Opening reception: Thursday, September 26, 5:00-7:00p.m.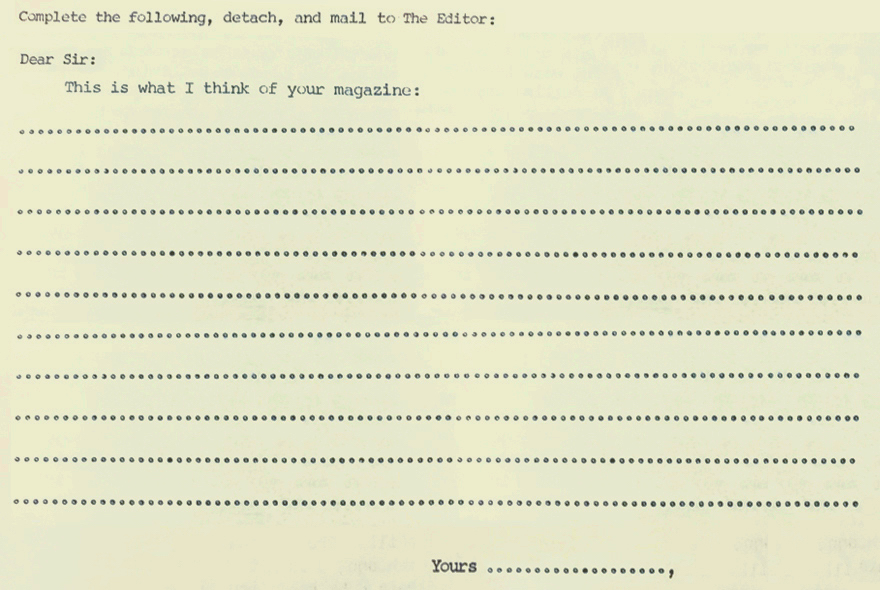 Image: Editor Feedback form, 20 Cents Magazine, Volume 4, No. 1, January, 1970.

In the summer of 1969, the editors of 20 Cents Magazine, an independent art publication from London, Ontario, used the term "anti-profit" to describe both their endeavour and the perpetual challenge of their work.

"Low-budget" is a familiar adjective within artist-run culture—a constant limiting factor, strategy, difficulty, or emancipatory qualifier (depending on the day). Anti-profit: Independent Publishing in London explores the histories of independent arts and literary publishing by considering how and why small art presses wrangled with this seemingly perpetual precarity.

Curated by Ruth Skinner from the McIntosh Gallery Curatorial Study Centre Collection, this exhibition will complement the international selection of similar material featured in Publishing Against the Grain.
---
Publishing Against the Grain
Produced by Independent Curators International (ICI)
September 14 - October 26, 2019
Opening reception: Thursday, September 26, 5:00-7:00p.m.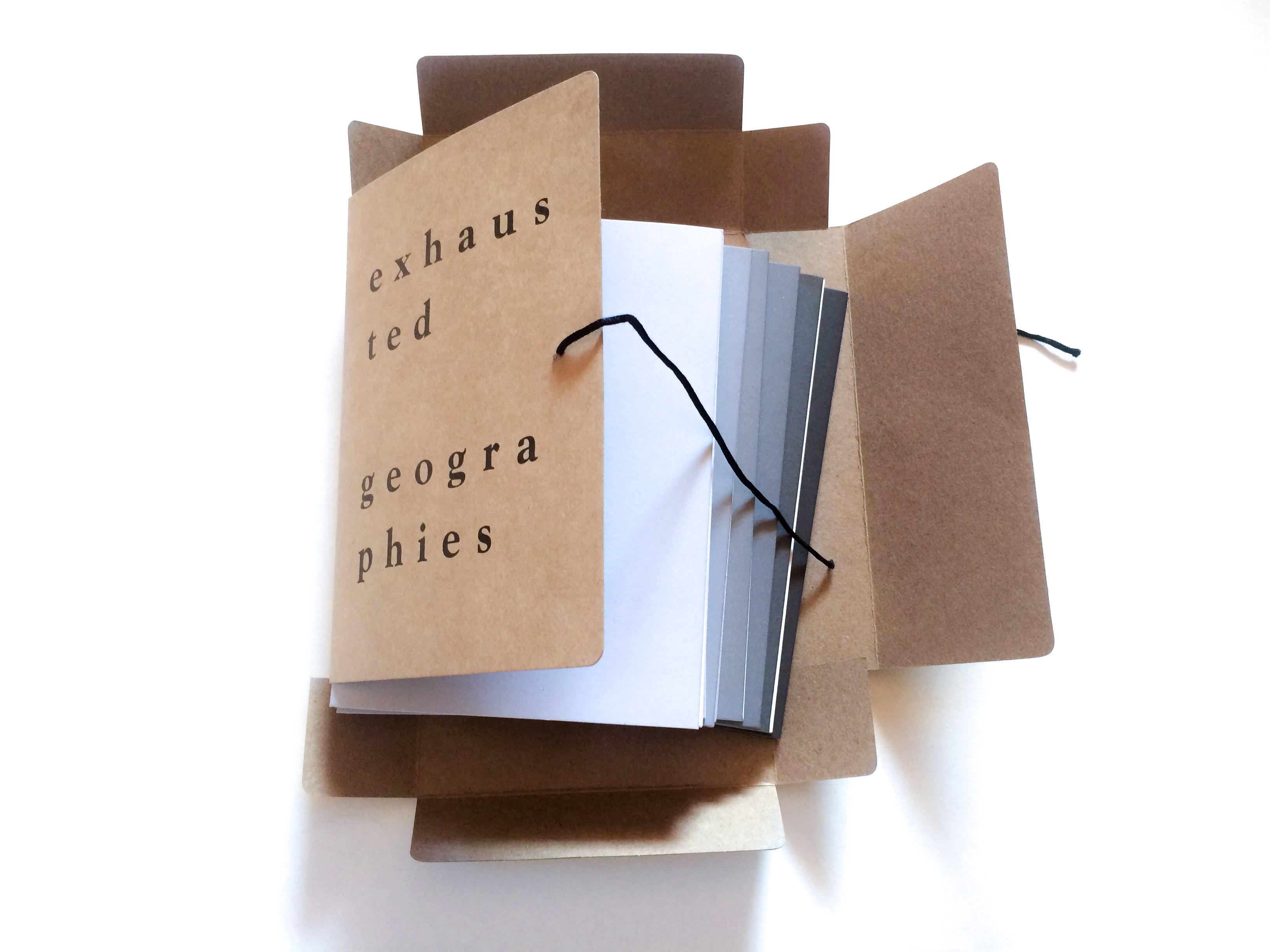 Image: Exhausted Geographies, publication image, 2017. Courtesy of Exhausted Geographies. 

McIntosh Gallery and Independent Curators International (ICI) are pleased to announce the presentation of Publishing Against the Grain, which examines the current state of publishing and art criticism as it exists in small journals, experimental publications, websites, and radio, as well as other innovative forms. It is organized around projects that connect theoretical, social, political, and aesthetic questions with a focus on community, whether understood in relation to a particular place, or defined by identity or diaspora.

Visitors will have a rare opportunity to engage in a variety of conversations from across the world. In the context of today's corporatization and commodification of cultural institutions, and in many political situations where free speech becomes ever more precarious, independent publishing has shown extraordinary vitality and importance as a platform for disseminating alternative, progressive and autonomous positions.

Publishing Against the Grain provides space for reading, thinking, and conversing, in which slowing down can become a form of intellectual resistance. It encourages discursive public participation, self-reflective investigation, and invites visitors to discover new perspectives while connecting differing and analogous spheres of contemporary art.

In bringing these projects together from around the world, Publishing Against the Grain reveals how their material and discursive activities respond to intersecting subjects such as contemporary aesthetics, diaspora, sex and gender, gentrification, race, language, and art history.

Publishing Against the Grain is an exhibition organized and produced by Independent Curators International (ICI), New York, and initiated by ICI's Alaina Claire Feldman and Becky Nahom with Sanna Almajedi. The exhibition was made possible with generous support from The Andy Warhol Foundation for the Visual Arts, ICI's Board of Trustees and International Forum. The McIntosh Gallery presentation has been organized by James Patten and is supported by The Canada Council for the Arts, The Ontario Arts Council and Western University.

For more information about McIntosh Gallery and these exhibitions, contact Abby Vincent, Communications and Outreach Coordinator, avince5@uwo.ca, 519.661.2111 ext. 87576.



Écrins Écrans
Angela Grauerholz
Curated by Catherine Bédard
Produced by the Canadian Cultural Centre, Paris
November 1 - December 14, 2019
Opening reception: Thursday, November 14, 8:00-10:00p.m.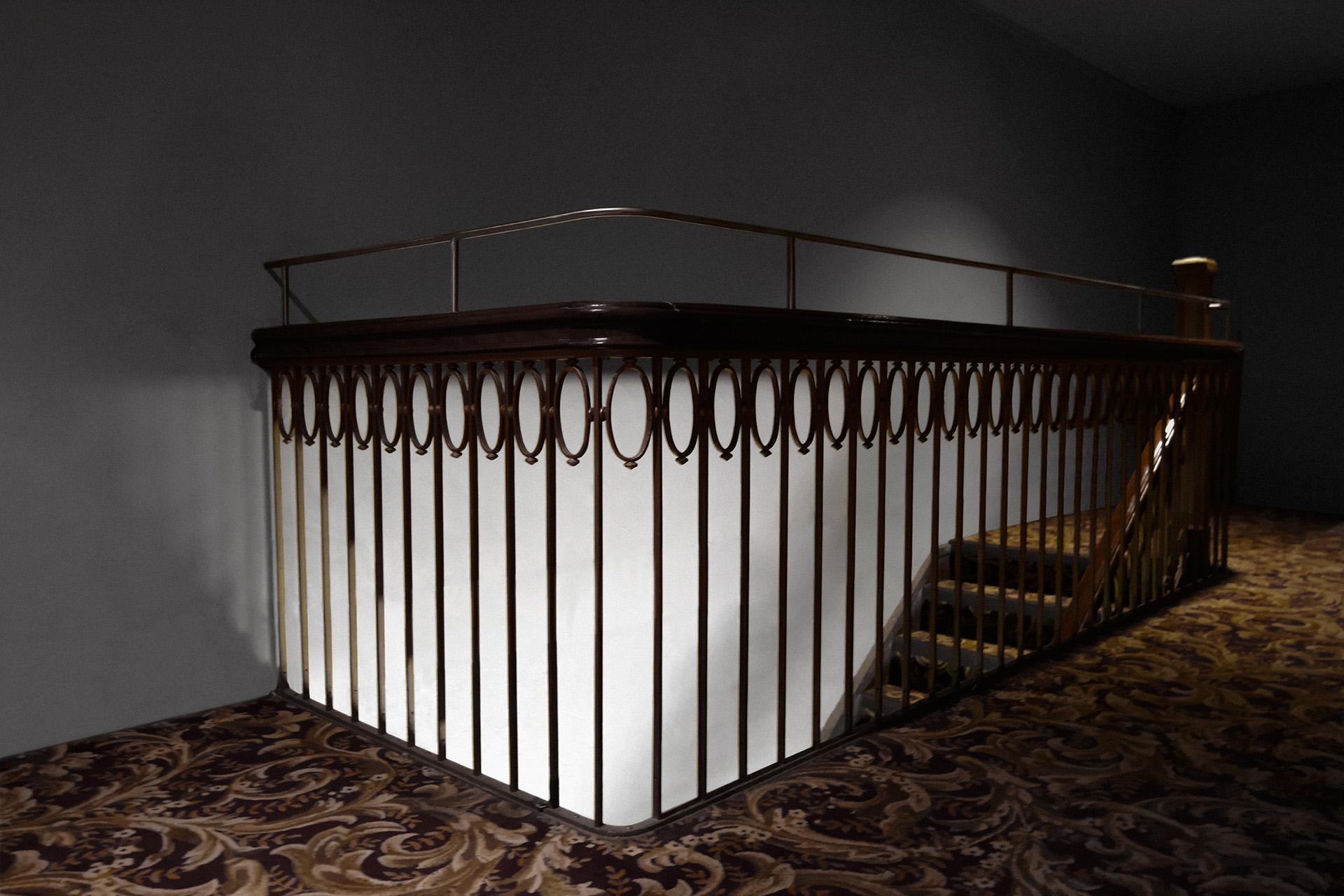 Angela Grauerholz, Light Well. 2014. Printed using inkjet on Hahnemuehle Fine Art paper and mounted on Sintra.

This exhibition presents an ensemble of photographic projects in which individual and collective memory become entangled in magnificent yet somewhat disturbing images. Écrins Écrans consists of approximately forty spare, frameless prints from a series of colour photographs taken by Grauerholz beginning in 2001. That was the year she produced Privation, a major project that documented the charred remains of her library, which had burned in a house fire. A lamentation over the loss of her book collection, Privation also symbolically marked her complete transition from analogue to digital photography.

In her earlier work, Grauerholz resisted optical precision and referential clarity. She used black and white or sepia monochrome to allude to the past with numbed awareness, resulting in a critical distance that precluded identifying too closely with the subject matter. In contrast, this recent work redefines places of remembrance, longing and intimacy with a now distant eye, as if the photographer had lost some privileged, sensitive, or even tactile relationship to the object of her gaze. Here, the relations between architecture and decoration, places of passage or waiting, and devices to conceal or reveal, invite us to look while at the same time forbidding us access. In each of these images, something emerges from the past, from a personal story and from the collective memory. But what is striking in those protected spaces is that although you can write, imagine or project anything on their surfaces – walls, screens, floors – they keep us firmly on the doorstep. This proximity is all the more uncomfortable precisely because we are prohibited from entering and seeing close up.

The exhibition title Écrins Écrans is a homophonic pun in which the meaning of two similar sounding words with different meanings resonate in unexpected ways. Écrins translates as small boxes or cases, écrans are screens. Beyond the most literal interpretation of the camera as a box for holding memories, and the photographic print being a screen onto which that memory is projected, the words evoke an array of other meanings and associations in relation to what is hidden and what is made visible.

About the Artist
Born in Hamburg, Germany, in 1952, Angela Grauerholz has lived in Montreal since 1976. A graphic design graduate of the Kunstschule Alsterdamm, Hamburg, she also studied literature and linguistics at the University of Hamburg and holds a master's degree in fine arts (photography) from Concordia University, Montreal. Since 1988, she has been teaching at the École de design, Université du Québec à Montréal, where she was the director of the Centre de Design from 2008 to 2012. In 1990, she received the Award of Excellence from the American Federation of Arts, New York, for designing the book Lisette Model, published by the National Gallery of Canada. In 2015, Angela Grauerholz received the prestigious Scotiabank Photography Award. And, in 2016, a major book on the complete work of Angela Grauerholz was produced by German publisher Steidl.

Grauerholz has participated in many international events of distinction, including the Biennale of Sydney, Australia (1990), documenta IX, Kassel, Germany (1992), and the Carnegie International, Pittsburgh, USA (1995). Solo exhibitions of her work have taken place at the Kunstverein, Münster (1991), the MIT List Visual Arts Center, Cambridge, Massachusetts (1993), and at the Contemporary Arts Museum of Montreal in 1995, before travelling to Hannover, Zug and Zurich (1995-96). Her Privation series of photographs was exhibited as part of the Biennale de Montréal (2002) and presented the same year at the Contemporary Art Gallery, Vancouver.

In 2010 the National Gallery of Canada in collaboration with the Canadian Museum of Contemporary Photography (CMCP) mounted a major exhibition of her work which was subsequently shown at the University of Toronto Art Centre in 2011. In 2006, Grauerholz was awarded Quebec's Prix Paul-Emile Borduas for her accomplishments in the arts. Today, she continues her photographic work and takes part in archival projects as well as cinematographic productions. Her latest film short, Appassionata, was made together with Réjean Myette and New York composer Melissa Grey. Angela Grauerholz is represented by Art 45, Montreal, the Olga Korper Gallery, Toronto, the Thomas Schulte Gallery, Berlin and the Françoise Paviot Gallery, Paris.
For more information about McIntosh Gallery and this exhibition, contact Abby Vincent, Communications and Outreach Coordinator, avince5@uwo.ca, 519.661.2111 ext. 87576.